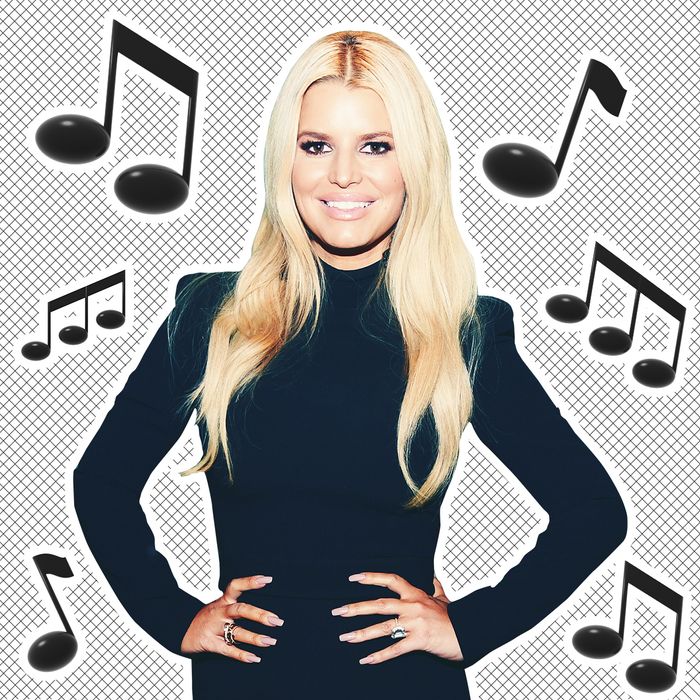 Jessica Simpson's new memoir, Open Book, was released last week. (If you want to be mad at John Mayer forever, definitely read.) While the book has been discussed for its heartbreaking details, I think not enough time has been spent remembering the reason we first came to know her: music.
Yes, it's true Simpson eventually became more famous for her reality-show hijinks and high-profile relationships. It's also true that she came up in a time when so many interchangeable-seeming blonde pop stars (see: Britney Spears, Mandy Moore, Christina Aguilera, Hoku, Willa Ford) were making similar music — and that any individual artistic achievement of the era is all-too-easy to overlook. But reading Simpson's book truly makes it clear how much music meant to the pop musician-turned-reality star. In that spirit, let's revisit some of her greatest songs. Trust me, they might hold up even better now.
"A Public Affair"
I'm sorry but this song has always slapped and will always slap. It's Jessica Simpson's "getting ready to go out with your girls" anthem — with more than a touch of disco. Plus, Christina Applegate appears in the delightful roller-rink video.
"With You"
Tone-wise, this is a really good encapsulation of what a lot of Simpson's music should have always focused on. A little bit of ballad, a little bit of light Delilah-radio style pop — the perfect vibe to look mournfully out of a window while journaling. "Nothing but a T-shirt on" remains a classic Jessica Simpson lyric.
"Irresistible"
I don't think you were allowed to be a pop star in the aughts without a breathy spoken chorus about a man you know is bad for you, but still can't seem to tear yourself away from. "Irresistible" is Jessica Simpson's entry into that canon.
"I Wanna Love You Forever"
I'm not gonna lie, I'm revisiting this song after years of not listening to it, while going through a breakup. It's a lot sadder than my memories of listening to it as a teenager! Jessica Simpson can really serve up an excellent ballad that makes your heart hurt.
"I Think I'm in Love With You"
Those breezy opening notes! The sampling of John Mellencamp's "Jack and Diane"! How could you not be instantly transported back to your early encounters with Simpson's most iconic song?
The music video, I would argue, is equally iconic: Simpson in her white crop top, jeans, and cross choker, doing light choreography on the Santa Monica pier. Perfect.