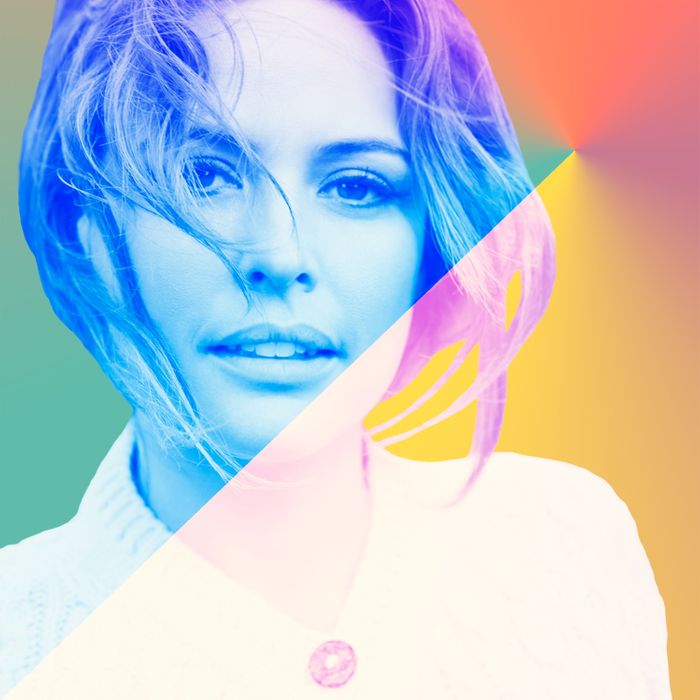 Photo: Courtesy of Josie Maran
When Josie Maran was a high-school student at the Castilleja School in Menlo Park, her philosophy teacher gave a lecture that she cites to this day.
"It was about being full of care," recalls the founder of the eponymous clean line, Josie Maran Cosmetics. "So many moms chased after us when we're kids, saying, 'Be careful! Be careful!' Instead, he suggested, why not be full of care? It changed my life; it's the essence of my life. I want to be full of care in everything we're doing."
When Maran was a child, two illnesses befell her family: Her mother was diagnosed with chronic fatigue syndrome and developed a strong sensitivity to chemicals, and her grandmother battled breast cancer.
"I always had this fear: Is that going to happen to me?'" she remembers. "There were high levels of breast cancer in the Bay Area, so I did some researching and dry cleaning came up. Poor people don't get to put fancy chemicals on their bodies. They put on coconut oil or argan oil on their bodies."
It was Maran's discovery of the latter oil on a modeling shoot in France that turned her into a clean-beauty pioneer. After years of modeling (she started at age 12), she felt disillusioned with the chemical-filled makeup that was being used on her. Her friend and mentor, makeup artist Jeanine Lobell, connected her to a designer and product developer, but her clean ask was not an easy one.
"For three years, we'd ask every lab, 'Can you make this product without this, this, and this?' They all said, 'No no no! Besides, parabens haven't been proven to be cancerous.' I said, 'I don't care. Just take it out and let's see what we get.' We finally got enough ingredients out that we could launch the line."
She debuted her line of makeup and skin care in 2007. A year later, Moroccanoil, the argan oil hair-care line, came out. This back-to-back fortuity contributed to what she calls "the Rev-oil-ution." This year, she's pairing the oil with pink algae in her new Argan Beta-Retinoid Pink Algae Serum. The algae is rich in beta-carotene, a natural source of vitamin A, and gentle enough that Maran says even the most sensitive types won't experience that classic retinol redness.
Maran spoke to the Cut about her teenage-girl crush, the glee of waterfalls, and how we could all benefit from a little more moisture.
What's your definition of beauty? Beauty is pleasure to our senses. Pure joy.
What do you think of when you hear the term "clean beauty"? Conscious beauty that helps us feel really good, both inside and out, because it's good for you and the world.
What is your morning skin-care routine? When I was on a family trip to Mexico when I was 12, a woman recommended that I take my morning saliva and wipe it around my eyes to stay young-looking forever. Ever since, I do this as my first step. The rest of my skin-care routine is my Pure Argan Milk, then Beta-Retinoid Serum, Face Butter, 100% Pure Argan Oil, and finish with Argan Daily Moisturizer SPF 47.
What's the last beauty product you use every night? My argan oil.
What aspect of your beauty routine tends to be neglected? I'm really big on sticking to a daily ritual, but need to remind myself to take care with extras like masks and weekly treatments.
What, if anything, is usually on your lips? Argan oil. I put it everywhere.
What shade, if any, is usually on your toes and/or hands? For toes, I like Flora 1761 dark blue with sparkles. It reminds me of the night sky.
What makeup item would you never skip? My concealer.
Facial cleanser of choice: My Argan Cleansing Oil.
Hair product of choice: Briogeo's Don't Despair! Repair! line.
Fragrance of choice: I prefer the fruity and juicy scents of my Body Butter and the lingering fragrance it leaves on the body.
Bath or shower? Bath, with my Sugar Scrub and a 3rd Ritual candle.
What discontinued product do you mourn? My first lipstick, named Rumi Joon after my daughter. And Häagen-Dazs Double Chocolate Mint ice cream.
What beauty product still needs to be invented? Fully compostable packaging.
What was your first beauty-product obsession? Maybelline Great Lash Mascara when I was 14 years old. I was obsessed with Christy Turlington in a Maybelline commercial and had to try it.
Daily carry-all of choice: Bottega Veneta Olympia crossbody bag.
How do you like your bed? Matteo linen sheets and LOTS of pillows.
How do you like your living room? Lots of floor seating is a must.
What do you splurge on? Hats.
What do you scrimp on? Sweaters.
What is your classic uniform? A vintage flowy dress and a hat.
What shoes are you usually wearing? None.
Current favorite fashion item in your closet: A vintage Alaia dress, super short and tight and sexy.
What do you own too many of? Jeans.
 
What color is your usual pop of color? Red.
What are the first three things you do when you get home from work? Find my husband, pour a glass of white wine, and relax.
If you were a makeup shade, what shade would that be? A really beautiful pale pink.
Any hidden or secret talent or skill you possess? I can do magic tricks.
When you check into a hotel room, what's the first thing you do? Turn off the A/C and open all the windows to let the fresh air in.
What is your own personal definition of glee? Standing under a waterfall.
What would the name of your autobiography be? Perfectly Imperfect or Second Nature.
Who would star as you in the film adaptation? Natalie Portman.
Favorite smell? Onions frying in a pan.
What do you think Pantone's color of 2020 should have been, and why? A deep, rich purple shade, representing the unity of blue and red coming together in the election year.
What are you usually sipping from during the day? La Croix.
Favorite CBD product: My Skin Dope Argan Oil + 100 MG CBD Oil
What do you foresee as the top beauty trends for 2020? Less is more. Streamlining your beauty routine so every product step matters. Also, moisture. Everyone seems to be really dry.
What product in your domain is misunderstood and should be a best seller? My Pure Argan Milk because it delivers hydration to the root of our drying and aging issues, and is a fine micro-droplet. Most people don't get moisture that deep. It's also misunderstood about when to use it given how versatile it is, with people saying they use it before they start their skin-care regimen, as a serum or even a lightweight moisturizer.
What product in your domain is currently your favorite (understanding that this could change all the time)? My 100% Pure Argan Oil, which is the same answer since Day One. You can use it for absolutely everything and anything.
If you won the Power Ball tomorrow, what are the first five things you would do (after, of course, donating the majority of it to your top charities …)? I'd get my own personal Japanese chef, buy an airplane that runs on algae-based biofuel, find the most amazing hat-maker to make me a new hat every morning, turn all of my walls and floors into cashmere, and buy homeless people comfy pillows.