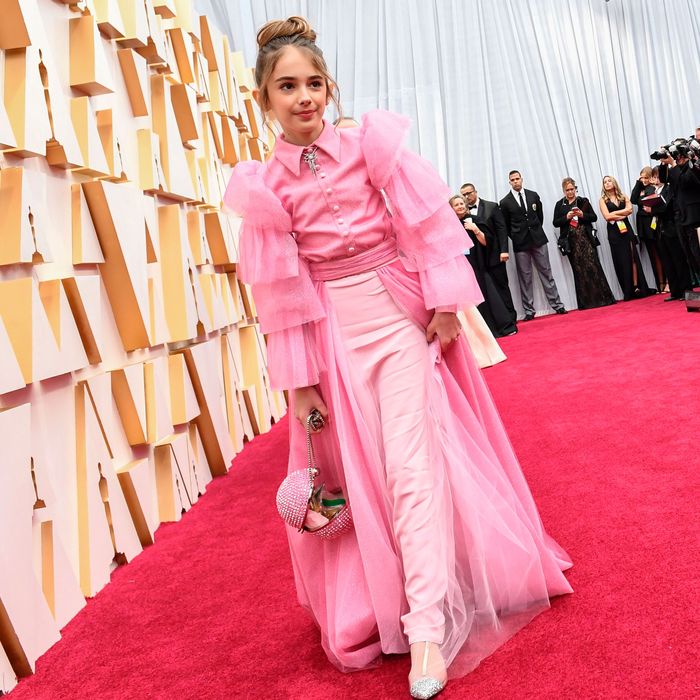 Julia Butters.
Photo: VALERIE MACON/AFP via Getty Images
Attention: There's currently a turkey sandwich on the Oscars red carpet.
No, a flustered attendee didn't accidentally drop their awards-show snack on the crimson rug. Instead, the aforementioned sandwich is carefully nestled inside the bubblegum-pink, crystal-encrusted ball purse of Julia Butters, the young actress who appeared in Quentin Tarantino's Best Picture-nominated film Once Upon a Time … in Hollywood. (Butters is not individually nominated for her role.) In fact, we even got a glimpse of the baggie'd sandwich, which Los Angeles Times reporter Amy Kaufman captured via photo and shared on Twitter. Behold, a blushing 10-year-old, showing off her sandwich:
And you can't argue with Butters's justification for bringing her own food. When asked by Kaufman why she decided to pack a snack, Butters responded, "I don't like some of the food here." Which is understandable. According to E! News, the food on offer tonight is very vegetable-forward, as it was at the Golden Globes — which sounds delicious to 26-year-old me, but may not have been as appealing to 10-year-old me.
Anyway, Brava to Butters for having the foresight to know that she'll need as much sustenance as she can get to endure what is sure to be yet another interminable ceremony. May her sandwich go down in awards-show history as one of the best accessories of all time, alongside Rihanna's flask and Jason Momoa's blush-pink velvet scrunchie.