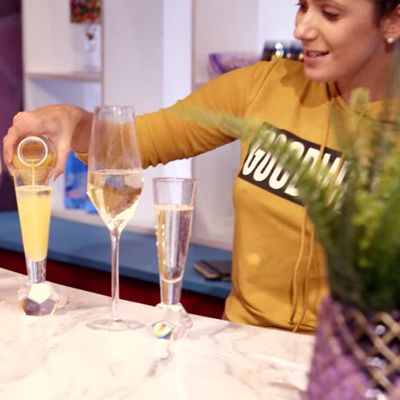 Photo: Courtesy of Netflix
Alcohol and reality TV go hand in hand, and dating shows are generally no exception. As such, I was not surprised to see that booze and love are cozy bedfellows in Netflix's new reality show Love Is Blind, in which contestants agree to marry without ever laying eyes on each other. The decision is made after six to ten conversations that the potential couple has, each person individually housed in a tiny pod, separated from each other by a thin wall.
The pods and the adjoined living spaces — one for the women, the other for the men — are the two main environments in which the pivotal decision to become engaged takes place. These spaces are windowless and mostly featureless save for couches, blankets, and full bars stacked with alcohol and alcoholic accoutrements: glasses, decanters, bar carts, etc. Contestants are rarely seen eating, but are almost always drinking. They drink during their conversations with their future partners and when they are commiserating with their fellow contestants backstage. Red wine (Joel Gott, if you're wondering) is featured most prominently; shots of the kitchen show dozens of bottles of Champagne and hard liquor and beer.
It's not clear if it's always alcohol that's being imbibed. One heavily featured contestant, a big, handsome toe named Barnett, appears to be drinking what is either cloudy lemonade or what I personally suspect is Smirnoff Ice in a beer glass. He did not respond to a request for comment specifying which:
Jessica, the third point in a devastating love triangle between Barnett and a personal trainer named Mark, favors a dark red, which she slugs with delicious abandon after being rejected by the former:
Netflix did not immediately comment on the amount of alcohol provided to contestants at any given time of the show, and none of the 12 contestants I could find on Instagram responded to my friendly DMs, so I was left to try to answer the question on my own.
I tried this at first by counting how many drinks everyone was drinking, but the only time I was able to tell that people had gotten fresh drinks was when they switched glasses, or went from the pod to their living rooms. This wasn't wholly reliable and happened around eight times per episode per person, which even by Love Is Blind standards seems like too much drinking without throwing up or passing out.
I soon realized this was a fruitless exercise because in the windowless universe of Love Is Blind, time is a construct. I can't tell what time of day it is, how much time has passed between drinking in a pod and drinking in the living space, and at what time of day the drinking is being done. I could tell that Barnett and a man named Cameron were drinking because they would become more pink in the face. I surmise that Jessica was drunk because she would become gossipy and emotional, while Amber would become more aggressive. It was unclear, though, how much of this behavior was due to alcohol or due to the fact that they are living in chilly dystopian pods plotting potential marriages under the eyes of hosts Vanessa and Nick Lachey. My suspicion, though, is that everyone on Love Is Blind is extremely drunk. I mean, why else — how else — would someone agree to something like this?