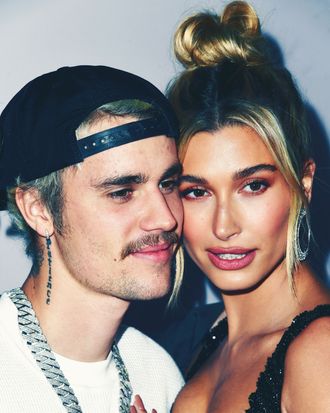 Justin Bieber and Hailey Baldwin.
Photo: Steve Granitz/WireImage/Getty Images
Justin Bieber has a new favorite pastime: Making suggestive yet unambiguous proclamations about how much he loves to have sex with his wife, which he recently claimed can "get pretty crazy." Nice!
The most recent incident came during an intimate concert last night in London, which Bieber opened up for questions from the audience at one point. According to E! News, this portion of the set started out innocently enough: A fan asked the singer how he likes to pass his time when he's not working. But Bieber saw an opportunity to take a more sexual interpretation of the question.
"It just depends who I'm with," he said. "When I'm with my wife, we like to … You guys can guess what we do. It's gets pretty crazy … that's pretty much all we do."
While someone is clearly feeling emboldened by his new mustache, this is not the first we've heard about this man's wild marital sex life. There was the time he bragged, in a series of Instagram videos, that Hailey "always says" that he has "good hands." (She confirmed.) Then, there was the time last month at his album-playback party that he told his attendees — after weeping throughout the entire night — that he was leaving his own event to go "get pretty freaky" with his wife. Also, one of his new songs is explicitly about how "yummy" he finds her.
To be fair, boning must still be a pretty exciting activity for the couple, given they've only been Doing It for a year and a half. In a Vogue profile published last March, the newlyweds admitted that they had abstained from sex up until their secret courthouse wedding in September 2018, which they apparently rushed due to overwhelming, pent-up horniness.
Let the record show: Justin Bieber is definitely a horny Wife Guy. I mean, he's featured on the certified Wife-Guy Anthem.