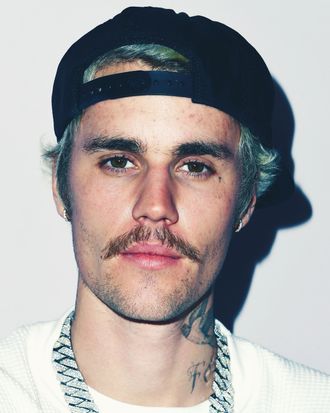 Rebel, rebel.
Photo: Steve Granitz/WireImage/Getty Images
A strange, surprise mustache seems to make some men feel wild and free, like they have successfully bucked tradition, reclaimed a degree of aesthetic autonomy, grown their own little friend for their own personal enjoyment, haters be damned. Justin Bieber, for example: He's been out there looking like the living incarnation of a Bushwick dive bar for years at this point — all breezy tropical shirts and snapback hats and dirtbag 'stache — and loving it. He particularly loves the mustache. It makes him "feel like a rebel," sources say, and that is a feeling he plans to chase.
Bieber has an on-again, off-again relationship with the caterpillar that guards his upper lip. It comes and goes, but for the time being, Bieber is all-in. As a source told People, "Justin is amused," both by the mustache and the backlash it has inspired. Some fans apparently believe the 'stache "overshadowed" his SNL performance on Saturday, while others have described it as "just really scary" and a throwback to vintage porn. But please be aware, all your griping is only strengthening the 25-year-old singer's resolve.
"There are so many things to worry about in the world, and this is what people focus on," the People source explains. "The more people want him to shave it off, the more he wants to keep it. It's staying for now. It's making him feel like a rebel and he likes it!"
Ultimately, though, Bieber's wife Hailey "can't stand his mustache," the source added, "so eventually, it will come off." It's the husbandly thing to do, I suppose, but right now? Feeling rebellious, might shave later ;)