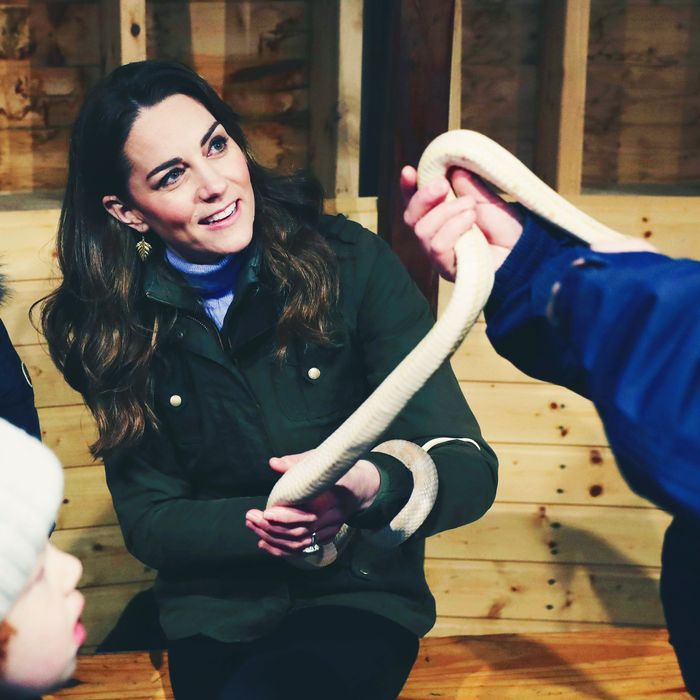 Who is she?
Photo: Pool/Samir Hussein/WireImage/Getty Images
Kate Middleton, we are pleased to report, has made a new friend. A "slippery" friend, per People. We don't know much about her, except that she's very long, statuesque, and her name is Sophie. Also, she's a corn snake. My sources have confirmed this detail.
Kate met Sophie during a visit to the Ark Open Farm in Newtonwards, Northern Ireland, on Wednesday. The Duchess was officially there to mark the farm's 30th anniversary, not to mingle, and the funny thing about it is that Kate specifically asked not to be introduced to Sophie — "I think we were told she doesn't want to touch the snake, definitely," the farm's owner, Stewart Donaldson, told the Belfast Telegraph. "That was the one thing we had been told."
But Sophie is willful, and also pretty forward by the looks of it, and wedged her way in there. The pair hit it off immediately:
This burgeoning friendship surely comes as welcome news, the past month or so having been a preternaturally dramatic one for Kate and her in-laws, even by royal standards. You may recall the sudden announcement (which landed one day before Kate's 38th birthday) that a certain Duke and Duchess planned to break ranks and flee to Canada? And the mad scramble of interminable conference calls and heated meetings that ensued? It was touch-and-go for a minute there, but now that a bargain has been struck and interfamily tensions have (reportedly) eased and all parties allegedly feel a little more comfortable with the arrangement, well — it's nice to see everyone smiling again.