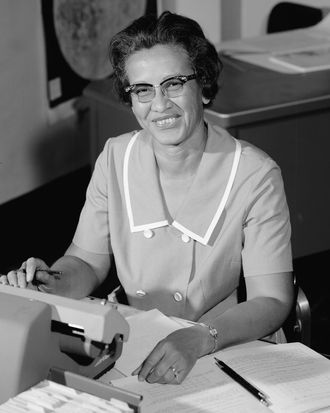 Katherine Johnson.
Photo: NASA/EPA-EFE/Shutterstock
Katherine Johnson, the groundbreaking NASA Langley Research Center mathematician whose work helped U.S. astronauts land on the moon and inspired the 2016 film Hidden Figures, died on Monday at the age of 101.
Johnson was pivotal in the historic 1969 Apollo 11 mission, calculating the trajectories that helped land the spacecraft on the moon and bring the crew safely back to Earth. By that point, she'd already contributed to several important space missions, including calculating the flight and reentry trajectories of John Glenn, who became the first American to orbit the Earth in 1962. Many of her contributions to the space race were depicted in the 2016 film Hidden Figures, based on the eponymous nonfiction book by Margot Lee Shetterly. On the role Johnson played in Glenn's launch, Shetterly wrote, "The astronaut who became a hero looked to this black woman, in the still segregated South at the time, as one of the key parts of making sure his mission would be a success."
NASA administrator Jim Bridenstine said in a statement on Monday, "Johnson helped our nation enlarge the frontiers of space even as she made huge strides that also opened doors for women and people of color in the universal human quest to explore space."
Johnson was born in 1918 in White Sulphur Springs, West Virginia, and entered college at 14 during a time of intense segregation and discrimination against black Americans, enshrined by Jim Crow. She graduated from West Virginia State, a historically black college, with degrees in Mathematics and French. After spending some time working as a teacher, Johnson was hired by the Langley laboratory of the National Advisory Committee for Aeronautics (the predecessor of NASA) in 1953. In addition to her plentiful achievements in the field, NPR reports that she was the first woman in the Flight Research Division to be credited as an author of her own research for her work on equations describing the orbit of space travel.
In 2015, Johnson received the Presidential Medial of Freedom from Barack Obama. In 2017, NASA Langley dedicated a new computer lab in Johnson's name.
In response to the flood of recognition she received late in life, Johnson told the Daily Press in 2016, "It was my job. They gave me questions and I worked on them. They wanted to go to the moon, so I looked up the distance to the moon and worked up the equations about how long it would be in space before it got there. It was my job, and I did it."
The Chicago Tribune reported in its obituary that Astronaut Yvonne Cagle, who acted as Johnson's aid in recent years, described Johnson in 2017 as "the shoulders I stand on and the bar I try to reach."