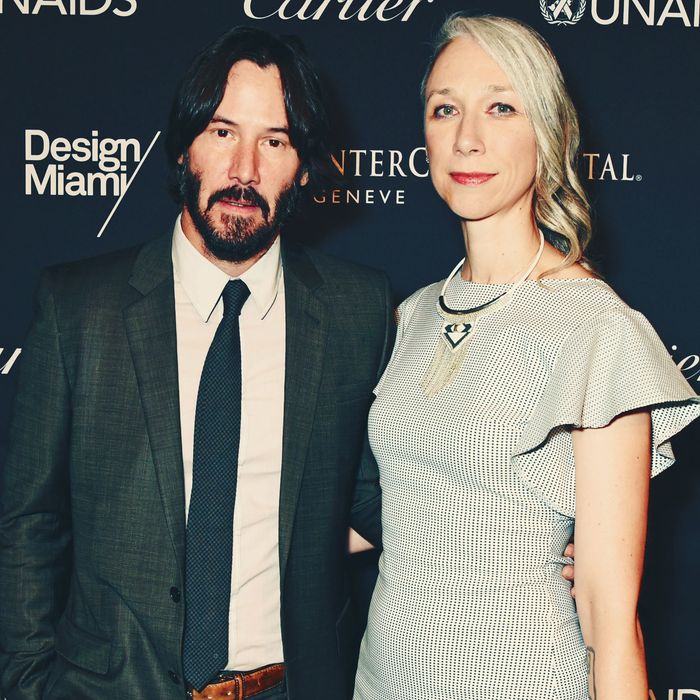 Keanu Reeves and Alexandra Grant.
Photo: David M. Benett/Getty Images
Approximately 347 years ago, which is to say last November, the internet had a meltdown when photos surfaced of Keanu Reeves holding hands with a stunning silver-haired woman at a gala, sparking speculation that our dear collective boyfriend had recently taken a fancy to someone — the first person in decades. Well, it turns out we didn't have it quite right: Yes, Keanu Reeves is dating artist Alexandra Grant, but no, they're not a new couple.
Instead, according to actress Jennifer Tilly, who also happens to be one of Grant's close friends, they've been dating for several (!) years. "I remember a couple years ago, about a year and a half ago, [Grant] said, 'Keanu Reeves is my boyfriend' and I'm like, 'Wait. What? What? What?'" Tilly told "Page Six" earlier this week. "She was so cool I thought she was a lesbian." (Generally, a wise assumption.)
So when we all christened them our new favorite couple — emphasis on the new — last year, Tilly says she was astonished. "All of a sudden, she goes to an event with him and everybody goes insane, like, 'It's his new girlfriend,' because she had gone to a lot of events with him," she continued. And that's fair. While Reeves and Grant were suspiciously touchy at last November's LACMA's Art + Film Gala — i.e., hands were held — they've been collaborating on art projects as early as 2011, and have therefore been attending events together for quite some time. (Also, they had been spotted acting couple-y as early as last May.)
My reaction to this revelation: genuinely pleased! Congrats to our humble king on finding lasting love, and for accomplishing something even more difficult for a celebrity in today's day and age: keeping his personal life actually personal.