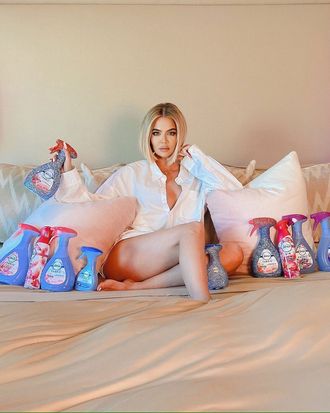 Photo: Courtesy of @khloekardashian/Instagram
Khloé Kardashian's house must smell truly remarkable. That is the only conclusion that can be gleaned from her latest foray into sponsored content on Instagram, where she can be seen sexily posing with a small militia's worth of bottles of Febreze, the thing you spray on your sheets when you don't want to wash them.
Take a moment to absorb the sheer absurdity with which Khloé has undertaken what might otherwise be a fairly mundane paid sponsorship effort. Observe her hanging out with her Febreze bottles on her presumably spray-soaked bed.
See her lounge sexily with some of her bottles, sans pants, on a couch that's no doubt slick with a coat of Febreze, while others sit placidly on her balcony boiling in the Calabasas sun.
Note her most treasured bedazzled Febreze devices arranged pleasingly next to a photo of her and her daughter and a bouquet of pink roses, which may very well smell like Febreze now.
I am utterly taken by the idea that Khloé Kardashian cleans her own home, and that when she does it she actually just sprays Febreze onto everything like a college-freshman dirtbag. Of course, she does not, which is why she has decided to sponsor a household item with the grave raunchiness of someone posing in a men's magazine spread.
I love thinking about how something as commonplace as Febreze becomes a glistening pastel accessory in the life of this woman who is simply unable to showcase the product in the way a human being might actually use it. I have scrolled through the comments under Kim Kardashian West's attempt to support her sister's new partnership by demonstrating that she does have a genuine affinity for Febreze — "You have been using this forever neat freak!" — from followers desperate to explain that it only removes odor and does not actually clean anything. No matter, though, the photos are nice.