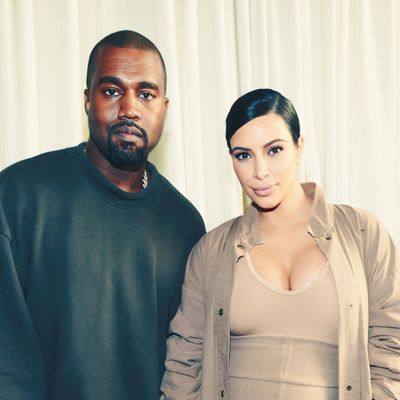 Welcome to our home.
Photo: Kevin Mazur/Getty Images
Picture a haunted mansion: Do you see a termite-eaten Victorian in your mind's eye? Is it lonely on a hill with stray two-by-fours banded across its broken windows? Does the front door creak ominously open and closes in the non-breeze, due to paranormal activity? Does it exude the overwhelming impression of dustiness? I bet it does, because we have all been beaten over the head with this Halloween-candy version of what a spectral home looks like. Meanwhile, there are real innovators out there making waves in the haunted-architecture category. Kanye West and Kim Kardashian West, for example. They are doing some really interesting work.
You may have gleaned a vague outline of the interior when Kanye went on that tiny Twitter tear about the "sunken place" (his Calabasas mansion, it appeared), but photos from the couple's recent Architectural Digest spread present a fuller picture. Everything is the color of ghosts and pristine in a way that suggests this house hasn't seen its inhabitants in 80 years.
Architectural Digest describes the space as a "wildly idiosyncratic family refuge," uniformly minimalist in its off-white plaster walls and utter absence kitsch. According to Kim, the couple had their "preference for a neutral palette" in common when they embarked on the renovation of this "McMansion," as Kanye described it to AD. So they really went for it, enlisting Belgian designer Axel Vervoordt to make everything pale and low and rounded. See, for example, this cozily austere sitting area, possibly inspired by eggs or marble tombstones:
The proliferation of curved edges may be the only obviously kid-friendly thing about this place. Kim and Kanye have four children, all of them young: What must it be like growing up in a house where everything attracts juice spills and the heavy stillness is punctuated only by an occasional disembodied giggle echoing down the glacial vaulted halls? Imagine waking up at night and toddling to the kitchen for a glass of water, only to find that you've accidentally wandered into the head room. (The Kardashian-Jenners love decorative heads, who knew!)
Despite obvious spookiness, the couple assured the magazine that they did create less serious spaces for their spawn to enjoy. Take North's bedroom, for example: Very Barbie Dreamhouse, circa 1991, and speaking of, would the overall aesthetic not benefit from the addition of a couple haunted dolls? Minimalist haunted dolls, of course.
Anyway, Kanye insists that "everything we do is an art installation and a playroom." For ghosts, obviously.