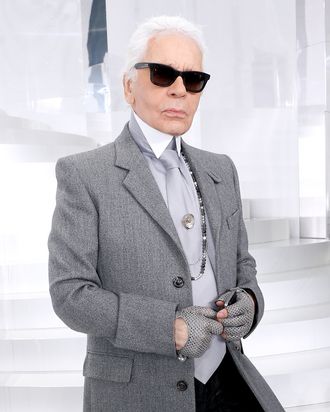 Photo: Bertrand Rindoff Petroff/Getty Images
Come all ye knitters and all ye Karl Lagerfeld fans. One of the last projects the late designer worked on is now out in the world. It's a knitting kit, designed in collaboration between Karl Lagerfeld and The Woolmark Company. The kit comes with four designs from Lagerfeld, and super soft black merino wool, cute enamel pins of sheep and Karl, and knitting needles and a step-by-step guide. The designs are a hat, a headband, a scarf, and a cable-knit sweater but for knitting. I'm told the guide is super easy to follow — like "paint by numbers" but with knitting.
Karl Lagerfeld's won the prestigious Woolmark Prize in 1954, when he was just 21. He helped work on this project when the idea first came up in 2018. "As Karl's first-ever creation was for the Woolmark Prize in 1954, it feels appropriate to celebrate his life with this collaboration with The Woolmark Company," Caroline Lebar, Head of Image and Communications at Karl Lagerfeld said.
But here's the catch: money can't buy you this kit. There are only 777 in the world. To get one, you enter a raffle-meets-scavenger hunt, between February 7 and March 7 (Lagerfeld's favorite number was 7). You can collect exclusive codes and enter them at this website to win your very own box. To get you started, here's a code: KLWXP77Y. Happy knitting!