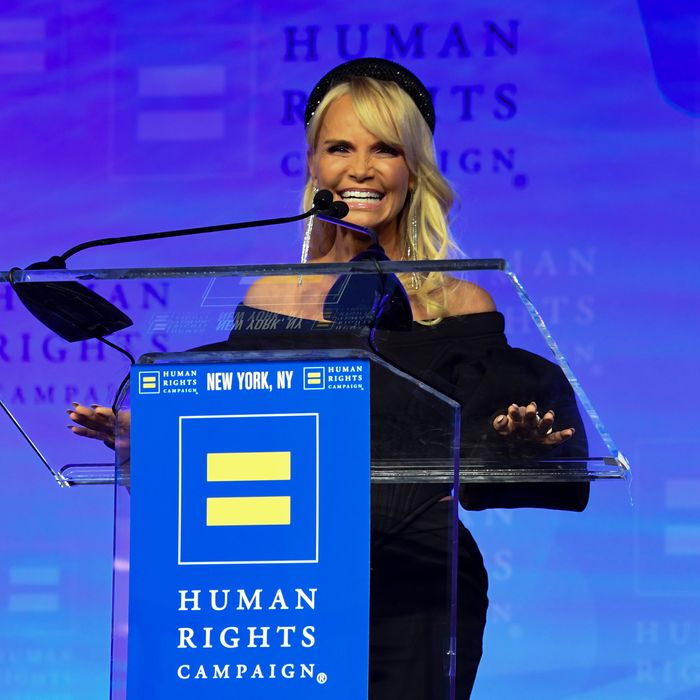 Photo: Larry Busacca/AP Images for Human Rights Campa
This past Saturday, New York philanthropists gathered at the Marriott Marquis for the Human Rights Campaign's biggest event of the year: the Greater New York Gala. This year's program honored Naomi Campbell with the Global Advocacy Award, Jeremy O. Harris and Matthew Lopez with the Equality Award, and Kristin Chenoweth with the Ally for Equality Award.
Attendees passed the time until dinner drinking Smirnoff cocktails and marveling as stars like Stephanie Frosch, Bob the Drag Queen, and Basit Shittu strutted across the red carpet. After the umpteenth expertly executed hair toss, a nearby partygoer couldn't help but gasp: "Her hair. It's so glossy. It's perfect."
Meanwhile, far from the ballroom speakers pumping out Taylor Swift's anthem "You Need to Calm Down," Kristin Chenoweth prepared to accept her award by reminiscing on her experiences as an LGBTQ ally. "In the third grade, my friend Jackie Bell was called a dyke and I didn't know what that word meant, so I ran home and asked my mom. She said, 'It is a word we won't use in this house', and she explained it was for girls who like girls. I said, 'Is that bad?' She said, 'Not to me, but to some people it is.' The next day at school they were teasing her, and I've always been no bigger than a minute, but I said, 'Anyone who wants to get to Jackie Bell has to come through me first!' Nobody seemed very scared by that, but we were just friends and I knew then, that's my friend, I don't care what she is."
Standing a bit higher than her typical 4'11" in glittering ruby slippers, Chenoweth admits she's still not the most intimidating person, but her will has never faltered. "I'm a girl from the heartland, a Christian girl. I think there's always going to be the extreme right, there's always going to be the extreme left, and I believe that people should have their opinions. But my job is to preach to not my choir. I've got to get to my people, that are not so much confused, but have a sense that they know what's right and how we've all been taught. So my message will be that until the day I die: Open your mind; open your hearts."
The HRC was proud to honor her open heart that evening, among rousing speeches from HRC president Alphonso David, Governor Andrew Cuomo, and Senator Chuck Schumer. After an exuberant night of fundraising, the gala raised more than $100,000 in live asks, in addition to silent-auction proceeds.
For Chenoweth, tonight was only a moment within the fight. As she looks toward future projects, she continues to center LGBTQ stories, working on a musical about Tammy Faye Bakker's life and her impact on the gay community. The singer may be small, but her Broadway-size voice has a platform that will always be hard to match.