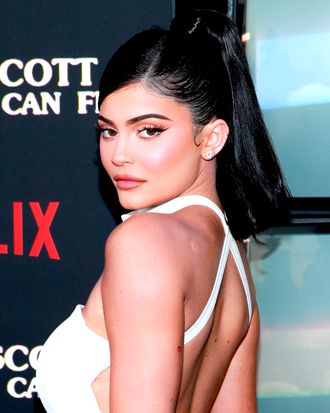 Kylie Jenner.
Photo: Rich Fury/Getty Images
Although she is just a toddler, Stormi Webster already owns a small mansion. She has already inspired a cosmetics line. She already has, or has access to, a child-size Hermès handbag. What to get the baby who has everything?
Maybe a nice…carnival? Filled with enormous models of her own head? Hm yes, that seems like a thoughtful and understated gift.
To celebrate Stormi's second birthday, her mom, Kylie Jenner, recreated Stormi World. It operated on the same basic principle as the personal amusement park Jenner staged last year, when her daughter turned one, only this year's iteration was bigger than before — and quite possibly, packed with even more Stormi heads.
This year, like last year, guests entered through a giant inflatable Stormi mouth, as seen below.
Having passed through the mouth tunnel, guests then enjoyed a few of Stormi's favorite things. There was an interactive Trolls section, according to E! News, as well as a Frozen-themed area. There was a gift shop, with shirts available to tie dye. There were carnival rides and a large slide, topped with large Stormi heads. There were fun games, like for example a claw machine filled with little plush pillows shaped like Stormi's face. There was a Stormi mascot. There were assorted Stormi-shaped treats. All Stormi everything, you could say.
Maybe you are wondering how the children fared, with so many disembodied heads bearing down on them. Only the children know for sure, although Instagram footage suggests Cardi B's daughter, Kulture, ran out of the Stormi mouth screaming at one point. Whether that was from delight or from fright, it's hard to say.