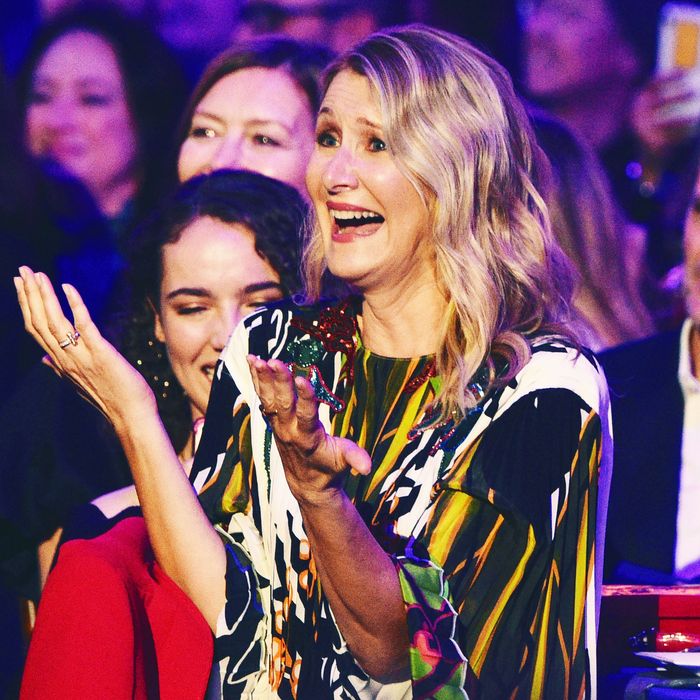 Just all of Laura Dern.
Photo: (C)Kevin Mazur/Getty Images for Film Independen
Laura Dern, as you may have intuited from seeing her face emblazoned across so many fashionable chests, is having a moment. A very deserved moment. She has been in approximately 57 big-name productions within the past year — a sexy attorney in Marriage Story! A fancy fucking business-lady in Big Little Lies! An outlandishly soothing mom in Little Women! — and having already taken home Golden Globe, Screen Actors Guild, and Critics' Choice awards this season, she's also the front-runner for best supporting actress at the 2020 Oscars tonight. Everybody's very into Laura Dern right now — perhaps most of all the Gay Men's Chorus of Los Angeles, who put their admiration into song at the Independent Spirit Awards on Saturday.
Ostensibly, the Dern Serenade started out as a tribute to "the gayest moments in other films you may not have realized were gay," per host Aubrey Plaza, who introduced the performance. The chorus ran through a catalogue of other pleasing cinematic moments — "J-Lo pole dancing to Fiona Apple"; "the title of the film Diane"; "the concept of a cursed bird" — before giving over the second half of their musical montage to Dern. You know: "Laura Dern kicking her feet up on the couch, Laura Dern ordering a kale salad, Laura Dern dressed slutty in court, Laura Dern just all of Laura Dern." Then in came singer Alex Newell to bring us home [into Dern's outstretched arms].
Dern, as you can see from her enthusiastic clapping and small seated dancing, had a nice time. She subsequently tweeted that she "need[s] a choir to go everywhere" with her now, which feels correct. Anyway, enjoy this, an actually funny staged bit at an awards show. It could be the only one you see this season!