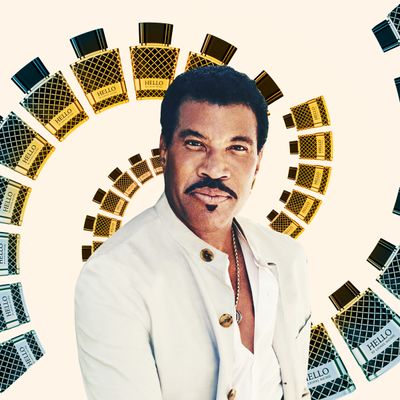 Lionel Richie.
Photo: Courtesy of the brand
Scientific studies confirm that, of all the senses, smell offers the best recall. In Scent Memories, the Cut asks people about the scents they associate with different times in their lives.
Next up is Lionel Richie, a superstar who needs no introduction, but will get one nonetheless. The award-winning singer-songwriter recently launched his own fragrance collection, Hello by Lionel Richie, which currently features a namesake eau de parfum for women and an eau de toilette for men, inspired by the contents of his garden. The parfum is a refreshing blend of pear, lemon, grapefruit, and romantic jasmine and tuberose; the toilette is a sultry mix of vetiver, lavender, grapefruit, bitter orange, and mint. The Cut caught up with Richie to talk relationships, learning to trust your nose, and taking candles on vacation.
My first scent memory: I think it's my dad's aftershave, back when I was a kid. It was very much his personality. I think that's probably one of the reasons why, for a very long time, I never wore a scent, because he would put it on in buckets. I kept thinking to myself, Oh my God, this can't be happening.
From there, of course, you leave your home and start traveling around, and you get a bit more sophisticated with your smells and stuff. But my dad was the beginning of my journey [laughs].
Love smells like: I've heard often, "What does love sound like?" But what does love smell like? That's very good. When they say "love is in the eye of the beholder," smell is also in the eye of the beholder. I guess I should say in the nose of the beholder, because everyone has their own specific body chemistry and what will attract one person will not exactly attract others. I find now, that when we find the right scent, it goes with the right person. My love smells calm and never aggressive, like lavender, in that range.
Heartbreak or loss smells: Oh, disgusting. But truthfully, how I look at it, it's the same as love. Often, what we miss when we break up, or lose someone, is what came with the personality of that person, what came with the presence of that person. You remember their smell. You remember what they smelled like and you instantly remember all the things about them. You can't distract between the two — what you fell in love with, you now miss it. I think those fragrances have a great deal to do with the story of love itself. That was pretty heavy, by the way. If I must say so myself … [laughs].
Friendship smells: Honest. Now in this case, for the most part, we take our friends the way they come, and that's the beauty of it. Their smells don't have to be of your liking in a close, intimate setting, because that's not what it's all about. I have friends of mine that are outdoorsmen, outdoors people. They love the … musk of it all. When they walk into a room … I know they're in the room, I'll put it that way.
And of course, Lionel Richie and that heaviness? It just doesn't work at all. But I take them as they are because I know that's who they are. Though, I can tell you I have friends that finally, after long last, I can just tell them "Don't wear that anymore," at this point.
My favorite food smells like: Did you say food? Oh, fabulous, we've segued completely! Actually, I've been going through many changes. Probably five years ago, I was a big beef, chicken, and fish guy, and now I'm kind of down to a chicken and fish guy.
But I'm still southern, so let me just say this honestly: smothered chicken with rice and gravy. That's still home, you follow me? With some great broccoli. And some candied yams.
My least favorite smell is: A lot of musk, I must say. And after I found out where the fragrance came from, I was even more clear in my dislike of it [laughs]. But now that I've gotten into fragrance, it has been the best education ever in my life. In my business, we only have 12 notes. In the fragrance business, they have so many notes it'll drive you crazy. I had to learn — there are certain fragrances to which I would say, I would never use this in my brand, but I found that they would accentuate a note that you might want for the jasmine, or make the pear pop. Once I started getting into how scents affect the nose, I pulled back on hating things because I understand they are complements to other things. I actually have a hint of musk in my fragrance, but it's just a hint that accentuates everything, as opposed to smothering everything.
They say "opposites attract" in the business of love, but it also happens in fragrance. Combinations of things that you'd question, like grapefruit and lavender — do it and it will blow you away. By pulling a little bit of the grapefruit back, and letting the lavender come through, oh my God! But again, it's all about how much you put in, take out. A lot of times, in my business, you don't want to trust your ears because you might think you wrote a hit, when actually, you've psyched yourself out. Now I have to trust my nose, which drives me crazy, because its not about my eyes or ears at all! It's all about, "How does this fragrance make me feel?" and that is key.
Sunday morning smells like: Lavender. I am the guy who puts lavender everywhere because that takes me to sleep and keeps me in a peaceful mood. It's not a secret why it's in my scents. I'm addicted to it as a "calmer." All my fragrances, once they all appear, have a hint of my home in them because they're how I want my house to smell. It's not something I put on as I walk out of my house, it is my house. We actually walked around my garden and that's what inspired both the fragrances you have, things that were around me. I didn't have to go too far!
Vacation smells like: Home, because I'm a creature of habit. I love home so much that I carry it with me and I try to bring as much of my home with me on the road, in my hotel rooms. There's jasmine again, there's lavender again, and the tuberose just brings it all through the roof. I'll always try to bring a tuberose candle with me to remind me of what I love about home. What makes vacation so fabulous for me is that you don't want to take a lot of fragrance. You want to feel fresh, light, not heavy at all.
I smell: Extremely fresh, now that I have my fragrance. Before I had my fragrance, I would put a combination of things together. Now what I've done is taken those various little concoctions and put it all together into a thing called "fresh," that's Fresh Lionel. It's not heavy, just an accent. I've had people say to me, and it's the best compliment ever, "Oh my God, you smell so fresh." That's the right answer! In this day and age of everyone on top of each other, if you can get a compliment like that … it's the secret of where I want to go. I do more meet and greets than you can ever imagine, and I may start out smelling like me, extremely fresh, but I'll end up smelling like five ladies' perfumes by the end. So don't hold me to the freshness by the 50th person!
One of the reasons I did this in the first place is because the worst thing is when you shake someone's hand or hug someone, and you immediately want to go and find a way to get their scent off you. I'm sure we've all been in that situation, and I made a promise that if anyone got that close to me, I would not give you that burden. When you walk up to someone, you don't want to knock them over with your fragrance, you want it to be more of an aura, just an expression of you, but one step further.
The funny thing is that my job is to say to the girl what a guy can't figure out to say, through love songs. And now the same thing is happening with the perfumes. So many ladies are now buying the men's perfume for their guy, and Hello is helping love live in its own, new way.
If you buy something through our links, New York may earn an affiliate commission.