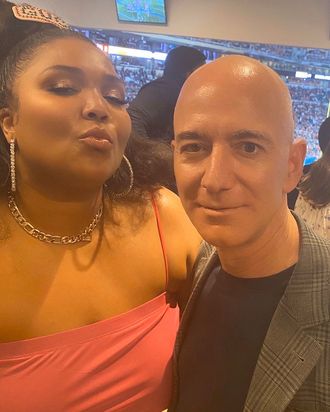 Lizzo and a fan.
Photo: Jeff Bezos/Twitter
While the Kansas City Chiefs and the San Francisco 49ers faced off in Super Bowl LIV in Miami on Sunday night, Grammy winner and tiny-bag influencer Lizzo generously took the time to pose for a selfie with a fan, a man named Jeff.
Like any eager fan, Jeff immediately posted the selfie to his social media accounts, writing, "I just took a DNA test, turns out I'm 100% @lizzo's biggest fan" — a corny, sweet reference to one of the singer's most famous lyrics.
The picture represents a much-needed social media win for Jeff, a onetime online bookstore owner. In January, a U.N. report found that it was "highly probable" that, back in 2018, one of Jeff's supposed friends — or, at least, casual acquaintances — the crown prince of Saudi Arabia, Mohammed bin Salman, had hacked into Jeff's phone by sending an infected video in their private WhatsApp chat, and then exfiltrated huge amounts of the Lizzo fan's data.
Jeff's private data has been the subject of headlines before. In 2019, he published a Medium post that included correspondence between his team and the publishers of The National Enquirer, who were threatening to publish sensitive texts and photos from Jeff's phone. These included nudes and suggestive texts sent to his girlfriend, Lauren Sánchez.
Lizzo, meanwhile, hasn't posted anything about her encounter with her fan. She's likely been too busy reflecting on her three new Grammys, or texting with her close friend Harry Styles.