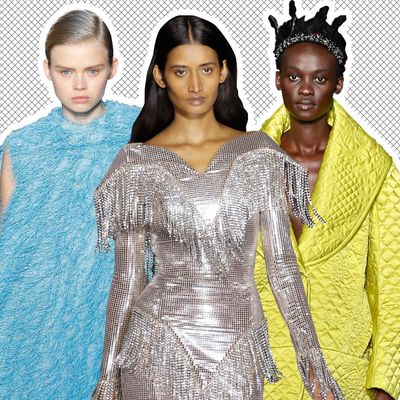 My London Fashion Week began not at a runway show but at a small, humble bakery in Hackney called Violet. The Cut's critic-at-large, Cathy Horyn, recommended that I go there, and when Cathy Horyn tells you to do something, you just do it, even if it's 40 minutes out of the way and has nothing to do with fashion — or, at least, so you think.
It's not loudly advertised, but the owner of Violet bakery, Claire Ptak, is the same woman who made Meghan Markle's shockingly untraditional lemon-elderflower wedding cake. It was a meeting of like minds: Ptak is also a Californian who moved to London for a guy, and has since carved out a dignified corner for herself across the pond. Like Markle, Ptak is also health-conscious, or as much as you can be as a baker (she uses sugar sparingly and intentionally), and she seems to have a personal interest in fashion as well. A curated selection of indie magazines are available for browsing at Violet, from i-D to The Gentlewoman, and according to Ptak's Instagram, she also attended the Christopher Kane show this week. After one bite of her almond-polenta muffin, which was topped with a fluorescent-pink Yorkshire rhubarb (plus a piece of chocolate cake before noon), I was reminded that good taste is good taste, whether we're talking about pastries or peplums. And Violet possesses what fashion week has so far lacked: a delicate balance of indulgence and restraint.
So much of what I've seen on the runways in New York and London has been the fashion equivalent of a dry layer cake topped with thick, bright fondant. There's been so much shine, so much volume, and so much color — which, don't get me wrong, can be a pleasure for the senses — but these are a quick hit. The same goes for the shock of minimalism. As Paul Hollywood of The Great British Bake Off would tell you: A good presentation doesn't salvage a bad bake. I've got to be able to see the layers!
As I understand it, the best of British fashion strikes a balance between control and rebellion; modesty and theatrics; prim and grime. My favorite shows of the week were the ones I felt embodied all of the above in ways that felt natural or not forced. Clothes can be over the top and fantastical, but also easy, and vice versa.
Designer Erdem Moralıoğlu was inspired by the work of photographer, costume designer, and general snowflake personality Cecil Beaton this season. (An exhibition focusing on Beaton's early work, titled "Bright Young Things," will open next month at the National Portrait Gallery, where the show took place.) The stern visages of prominent lads and ladies framed around the room provided a stark contrast to the diverse, idiosyncratic characters on the runway. Beaton himself was a middle-class young man with wide eyes for high society, and he used to play dress-up with his sisters, fashioning outfits and accessories out of bed sheets and tinfoil. With help from the rising-star stylist, Ibrahim Kamara, Moralıoğlu channeled this youthful sense of imagination with feather crowns and metallic cocktail gloves. The clothes themselves could have read as costumey, but never went overboard, balancing relaxed silhouettes with high-society sleeves and pearl embellishments. My favorite look was a silver gown fell off the model's arm with nonchalance.
JW Anderson's show was about as close to a party as clothes can get, with dresses made of what looked like tinsel and metallic fringe. One bulbous blue number resembled a glamorous Cookie Monster costume, while another was inspired by a beer can, with twisted silk meant to look like crushed metal. It was loads of fun, but not all fluff. His combination of materials and references felt disparate and strange; the Brits might call it "mad." Weightless celluloid tassels (like film from a cassette tape) were followed by a heavy black leather coat that looked like it had been supersized by @itsmaysmemes. Kitten heels were covered in hair and diamonds.
Finally, London Fashion Week closed with Burberry, which was set on the shiniest stage I've ever seen. The show opened with a performance by the artist, producer, and DJ Arca, alongside classical pianists Katia and Marielle Labèque. Inspired by his memories of being a student in London, designer Riccardo Tisci once again presented British classics alongside more modern, streetwear-inspired styles. In the past, he's divided them completely — one season with an actual fence. Like the performers onstage, I felt the collection this time made a better go of combining the two. Nostalgia can have that effect. But as a result, each side lacked in strength, and the collection seemed quiet as a whole.
Besides my sublime, spiritual moment with a muffin, there wasn't a lot to write home about this season. But that's what makes baked goods — and good fashion — so satisfying to indulge. We can only have it in small doses, as a treat.