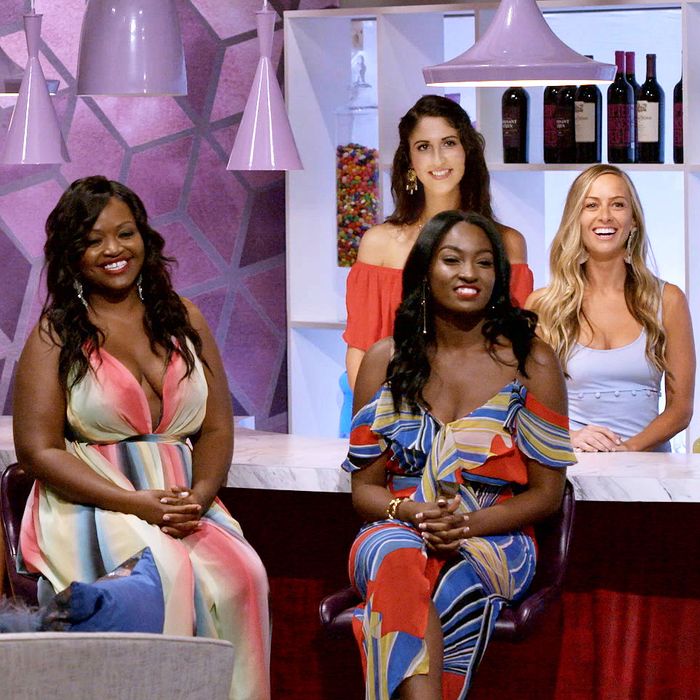 Why not be comfortable??
Photo: Netflix
Earlier this month, Netflix debuted Love Is Blind, a reality show in which men and women talk to each other for a few days in small, individual pods, and then decide whether to get married, all without ever having laid eyes on each other. It's an entertaining, if somewhat flavorless watch — the viewing equivalent of drinking a berry LaCroix. But the show has one big problem, an issue I cannot overlook or move past until it has been addressed. No, it's not the quickie marriage premise, or the fact that all of the couples are heterosexual and conventionally attractive. It's the fact that, even though none of their dates see them in their little conversation pods, everyone keeps getting really dressed up. If love really is blind, why not wear sweats?
Take, for example, Jessica, a 34-year-old regional manager from Illinois, who wants to explore the possibility of connecting with someone who doesn't meet each of her rigid set of standards. Here she is, in a beautiful, pale blue dress, with a high slit on the side, and strappy high heels, settling into her pod to have a conversation with a wall.
Here's Cameron, a 28-year-old scientist, sitting alone in a full suit and tie.
And Aly, 36, a nurse client relations director, in a royal blue gown.
All of them look great. They're all dressed like they're on their way to the summertime wedding of a college friend, where, if all goes to plan, they'll run into an ex and make them seethe with jealousy and regret. And while I commend their styling and beauty choices, I have to ask — why bother? The person on the other side of the pod won't see all of the effort you put into your ensemble. That's the whole point of the show. Why not take advantage of this bananas premise? Just slip into a comfortable pair of sweatpants and a lightly coffee-stained sweater instead, and make yourself comfortable while you try to decide whether you want to spend the rest of your life with a disembodied voice you've spoken with five times?
As the week goes on, some contestants do decide to cut loose, none more so than Barnett, the show's resident fuckboy.
This guy gets it.
Probably, the rest of the contestants just want to look nice on TV, and I respect that. But that's just not what modern dating is about. Whether it's for a TV show, or just for your own entertainment, dating today is about sitting in a room by yourself, spilling takeout on your middle-school camp shirt from 2004, and sending saucy messages to someone you'll probably never end up going out with. Romance!