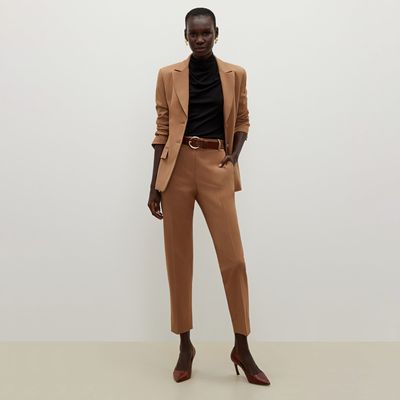 Photo: Courtesy of M.M. LaFleur
As if running for office wasn't challenging enough, female candidates have an added burden: figuring out how to present themselves sartorially. Women's appearances are scrutinized much more closely than men's, and their fashion choices are endless (unlike for men, who are usually choosing between the red tie and the blue tie.) It all takes a lot of mental energy — not to mention cash — and that's where workwear company M.M.LaFleur comes in.
M.M.LaFleur recently launched the Ready to Run campaign, a promise to lend free clothing to women running for any public office, whether it's city council or the House of Representatives. To take part, women just need to email the company with their name, credentials, and description of the office they are running for.
"Though we don't purport that clothes are really what make the difference here, we know that it's one small way that we can help a lot of women who potentially don't have access to these kinds of clothes, or the kind of money that is required to buy new clothes," said Sarah LaFleur, M.M.LaFleur's Founder and CEO. "Since 2020 is such a huge year for women in politics (including the 100th anniversary of amendment giving women the right to vote!), we figured there was no better time to start this movement than now."
In an email and Instagram post, the company explained that this has been a long time coming. After the 2016 election, M.M.LaFleur asked their community what they thought was needed in terms of support for women. The answer was clear: more women in office. And so the Ready to Run campaign was born. "Really, our main goal is to give women one less thing to think about during the process of running for public office," said LaFleur. "Female candidates are already up against so many obstacles. We can do our small part to help make sure worrying about what to wear on the campaign trail isn't one of them."
M.M.LaFleur's initiative has sparked attention and action from other clothing companies, as well. Universal Standard tweeted out a similar promise on Wednesday, declaring that they will also provide clothing for any woman or nonbinary person running for office. As for the rest of us, we can't wait to see the looks that powerful women across the nation will be wearing, whether it's the national debate stage or a suburban town hall.