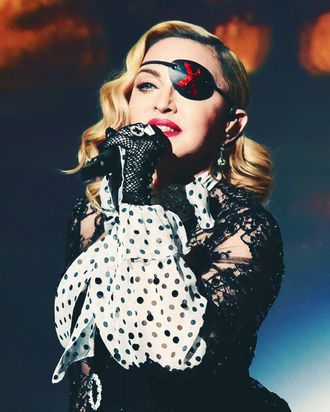 Madonna.
Photo: Kevin Mazur/Getty Images for dcp
While Meghan Markle and Prince Harry are trying to adjust to their new low-key life in Canada, a sword-wielding, eyepatch'd woman is attempting to lure them away from the Great White North and into her New York City apartment.
Apparently, Meghan and Harry have caught the attention of Madonna, of Madonna fame, who recently suggested in an Instagram video that the Duke and Duchess of Sussex leave their new home and come stay in hers.
"Hey, don't run off to Canada. It's so boring there," Madonna says in the video, which shows her getting her hair done backstage and features jazzy background music. She pauses, presumably to think, and then explains the enticing offer she plans to extend to them: "I'll let them sublet my apartment in Central Park West. It's a two-bed, it's got the best view in Manhattan. Incredible balcony, that's going to be a winner, a deal breaker."
She continues: "No, Buckingham Palace has got nothing on CPW." She even throws in a little hand clap.
Hmmmm. It's an interesting idea, that's for sure, but Madonna's apartment seems like the last place on earth you'd want to go if you're trying to avoid the press. Personally, I would suggest that Meghan and Prince politely turn down this offer, since they're seeking a quieter life after stepping down as senior royals. Also, seeing as Madonna is legally required to be physically present whenever guests stay in her apartment, per the Daily Mail, Meghan and Harry probably wouldn't get very much privacy. Hell, they'd probably start appearing on Madonna's prolific Instagram account.
Also, despite Madonna's claim about Canada being dull, life in the country is anything but: At any given moment, you could choke on a Tim Hortons honey cruller or drown in a flash syrup flood there.