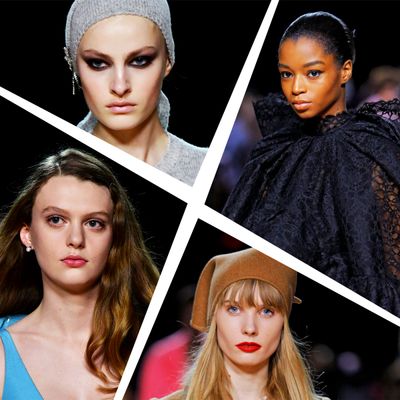 No one looked the same.
Photo: Getty Images
Last season, 60 models walked at Marc Jacobs, each with a bespoke makeup look by Pat McGrath, hairstyle by Guido Palau, and manicure by Jin Soon Choi. Not to be outdone by spring 2020, Jacobs added 30 more models to the roster for fall 2020, bringing the lineup to a cool 90. Then, he threw in 50 more dancers for funsies.
In backstage beauty math that's 140 faces that need doing, 280 eyebrows that need grooming, 140 heads that need hairstyling, and 1,400 nails that need tending. But the returning trio of backstage leads seemed pretty chill about it all. "We're doing a lot," McGrath admitted, before revealing that she's really only showcasing two items this time; ones you probably already own: black eyeliner and red lipstick. "With those two items, no one can look the same. When you think about black eyeliner and red lipstick, you think of all time periods: present, past, future. It's everything, isn't it?"
It is! Picture the combo on a face right now. Who do you see? Marilyn Monroe? Sofia Loren? Mary Poppins? Dr. Frank-N-Furter? Rihanna at the 2013 Grammys!? At least two of those were probably one of the "hundreds" of Marc muses that guided McGrath. The possibilities were endless (or at least around 140) with liquid liner wings in multiple lengths and approximately 12 levels of smoky eye, ranging from you timidly attempting one on a weekend and giving up, to a completely opaque one worthy of an editorial shoot. Some lips were perfectly drawn, others blurry, midday stains, all varying depths of red from Jacobs's line picked by what best flattered the models' skin tone. Only lip, only eyes, and no-makeup makeup were also options thrown into the mix.
Palau's hairstyles channeled the classics through a modern lens and on top of contemporary heads. "It nods to certain periods of time like the '90s and the '60s, but it's not really meant to be taken literally," said Palau. "It's how someone today would wear it, so you see a lot of ponytails, and deep side parts; a lot of scarves tied in the hair, and a lot of hats and black headbands." Palau played up models' natural textures with Redken Triple Dry 15 and Miley's shaggy mullet walked with a bowl cut.
Choi's nails celebrated simplicity and timelessness with a shoutout to two looks everyone's emulated: red and naked. Models got one of three levels of red: Hot, medium-dark, or deep, though, for time's sake, Choi says the majority of the 140 people in and out of backstage got the naked option she calls Shiny Buff. Like the beauty look as a whole, it was a nice reminder that there's no shame in going with what you know works. If it ain't broke, don't fix it. The glue will always be there waiting for you if you decide you want to play.
If you buy something through our links, New York may earn an affiliate commission.