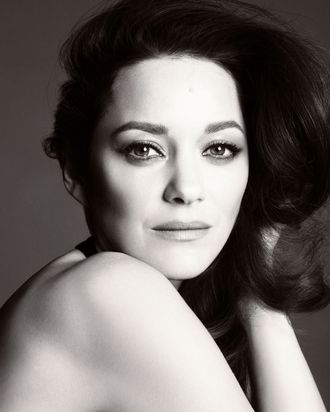 Marion Cotillard.
Photo: Courtesy of Chanel
Somehow, the Frenchest of actresses (Marion Cotillard) wasn't already the face of the Frenchest of fragrances, but the universe has a way of working these things out.
Yesterday, destiny fulfilled itself when Chanel announced it had chosen Cotillard as the new face of its iconic Chanel No. 5 fragrance, which is a big deal in beauty-contract land. "This is the first time that the most respected French actress in Hollywood is lending her image to a fragrance," the brand said in a statement.
It isn't hard to see why this is a match made in French perfume heaven, but in case things are blurry, the brand describes Cotillard as "the perfect incarnation of French natural beauty," with "an elegance" and "an irresistible "je ne sais quoi that's all her own." With her new role, Cotillard will have one more thing in common with fellow genetically blessed beings Brad Pitt and Gisele Bündchen, who were both former faces of the storied scent.
Cotillard's campaign will be out "later on this year," and if the teased black-and-white portrait is any indication, it's going to be nice. Simply seeing how the No. 5 sausage gets made is a cinematic masterpiece, and that's starring flowers⁠ — we can only imagine what's in store with an Oscar-César-BAFTA-Golden Globe winner on call.