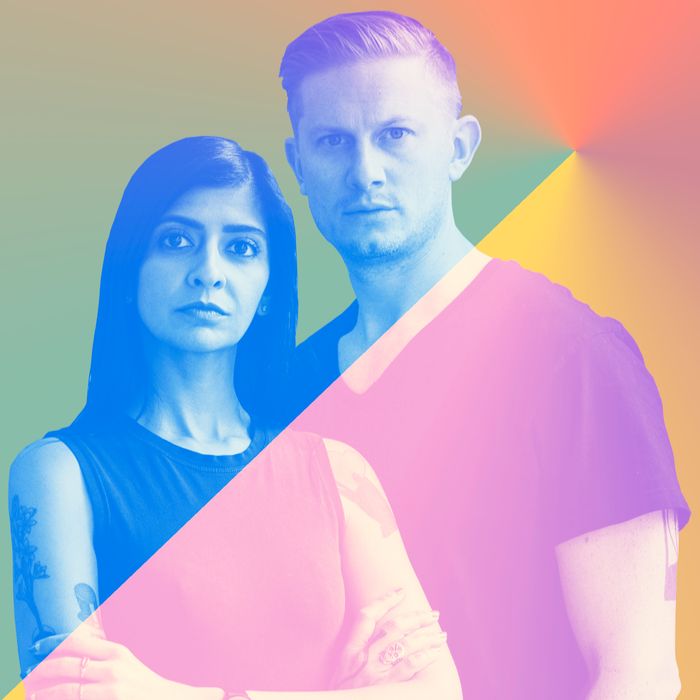 Photo: Courtesy of DS & Durga
"Kavi was into the band Joy Division in seventh grade," David Moltz states, emphasizing his awe with a gentle slam on the table. "Seventh. Grade. That made her insanely cool. She's also insanely smart, she has the best style, she's interested in intellectual topics and she has an interior spiritual life."
If this sounds like the opening scene in Marriage Story, I confess that David's encomiums about his wife, with whom he founded fragrance brand D.S. & Durga, led me to ask the same from her.
"David has an insatiable curiosity, which I don't. I'm just kind of fine knowing a little bit about a situation and not really needing to delve into it," she laughs with a shrug. "I'm more cautious than he is. I'm very protective of our brand."
David concurs: "I have a hard time saying no."
David was a musician and Kavi, an architect, when they first met one summer night outside an East Village bar in 2007. A common love of literature — Russian literature, to be specific — connected them. Soon, the two were taking romantic getaways where books intervened again.
"We'd go to antique shops, where I found myself drawn to old books on plants and herbs, with recipes for tonics, lotions, and creams," David explains. "I found this recipe for bay rum. It didn't last, but it got me interested in figuring out how fragrance works."
By December, they were making gifts for friends out of David's first blends, whose labels Kavi designed. By early 2008, they'd begun selling small batches through friends' businesses — Freemans, In God We Trust, Earnest Sewn — and the Brooklyn Flea. When Thrillist wrote them up, the orders started coming in.
"I remember saying, 'If someone bought a bottle of perfume from us every day, we could live on that!'" laughs Kavi. "'Wouldn't that be crazy??'"
A year later, a big order from Anthropologie enabled them to quit their unscented jobs. Slow and steady, they steered D.S. & Durga toward the high-end label they'd always envisioned it to be, always adding unexpected elements, like Studio Juices, a new line of limited-edition blends hand-mixed by David, which launched this month. The first of the Juices is called DUZINA ROZI, and the brand has only made 25 bottles.
"In lieu of giving someone a dozen roses, you are giving someone 12 ounces of the finest rose oil known to man (and woman!) in a perfume," explains Kavi. "I'm always looking for ways to make new things and not just conform to the branding formula we have laid out — where is the fun in that?"
As they prepare for their second store opening (this March in Williamsburg), David and Kavi spoke with the Cut about the rituals of beauty, the color of crisis, and the fragrance they'd wear even when they're not in the mood to wear fragrance.
What's your definition of beauty?
David: God imminent in creation.
Kavi: At the risk of sounding base in contrast, the term "beauty" has always construed some sort of ritual to me. Growing up, my busy working mother would always put aside time on weekend mornings for things like threading, bleaching, doing hair, home facials, waxing. And getting ready to go out for the evening was an event itself. It was exciting to watch — dressing up in a sari, applying makeup, curling hair. I loved all the glam.
What do you think when you hear the term "clean beauty"?
D: Marketing.
K: Misunderstood, misinformed. The definitions are so subjective. And so tied up in a general wellness trend that itself is insincere and muddled up.
Where, if anywhere, in your beauty (or life) routine are you not quite that "clean," "green," or "sustainable"?
D: What is clean to the body, mind, and spirit is self-evident when you tune in. I don't use many beauty products. I do love patchouli soap and bath rituals that mind-travel to mythic places like Japan or the Himalayas. Mostly through scent, though, I guess.
K: We veer to the extreme end of clean, in home habits and the food our family eats. But I don't like proselytizing, and I also don't like being preached to, especially when very few people are consistently green in all the ways that matter. As for myself, gel manicures and online shopping. So much packaging waste — a habit I need to break.
What is the opposite of "beautiful"?
D: Selfishness.
K: Being self-obsessed.
What is your morning skin-care routine?
D: If I shave, I put on witch hazel to close the pores and moisturize with anything that finds its way into my medicine cabinet. I do like face oil at times — Jordan Samuel makes a nice one. I often just use olive- or grape-seed oil, though.
K: Washing with warm water and a fresh washcloth to exfoliate. I use Retin-A, so my whole routine is a cycle of exfoliating and moisturizing. Caudalie Vinoperfect Radiance Serum, Biossance Squalane + Vitamin C Rose Oil, Elta MD SPF 46. Weleda Skin Food in my bag.
What's the last beauty product you use every night?
D: Once in a while some of Kavi's rosy night cream.
K: May Lindstrom the Blue Cocoon.
What aspect of your beauty routine tends to be neglected?
K: Nails and threading. Things I have to leave to someone else.
What makeup item would you never skip?
K: Lining my waterline; it adds my sought-after darkness. But let's be real, foundation.
Facial cleanser of choice:
K: Bioderma Sensibio Foaming Gel.
Bath or shower?
D: Shower for every day, with our Rose Atlantic Body Wash or a bar of patchouli soap. But I love baths for sore muscles. Epsom salts and some essential oil for mind-traveling — hinoki, Himalayan cedar, eucalyptus.
K: Dry brushing before a hot shower, any bar of soap, and sometimes Rose Atlantic Body Wash.
Most relied-on hair product or tool?
D: Billy Jealousy Mud.
K: Wash and go for life.
What beauty product still needs to be invented?
D: Non-fussy bath soaks and oils.
K: Gel nails that don't require soaking in acetone to remove.
What was your first beauty/grooming-product obsession? 
D: Polo cologne. The OG green one. 6. My dad wore it.
K: Benetton Colors perfume, Betsey Johnson perfume, Il Bacio perfume, Wet n Wild, Jolen bleach because my mom wouldn't let me do any kind of hair removal until my mid-teens. And Manic Panic!
Daily carryall of choice:
D: Lo & Sons backpack. It is the best. So many pockets.
K: An unbranded, unmarked black canvas tote. When I'm fancy, I carry a Stella McCartney handbag.
What do you splurge on?
D: Good tea. Records and books.
K: Babysitters, hotels, picking up the check.
What do you scrimp on?
D: I don't buy that much stuff. We're pretty balanced, I think.
K: I barely buy clothes. I just don't feel the need to wear different things much.
What is your classic uniform?
D: Nike Air Force 1s are the only thing comfortable for my flat feet. Love Rag & Bone jeans. Brooks Brothers sweaters and white button-downs. Polo V-neck tees. Boglioli for sport coats.
K: High-waisted black Acne jeans with any black top, some tartan, 10 percent goth accents, mostly via makeup. Most of my shoes are Stella McCartney or vegan Docs, because I don't wear leather.
Current favorite fashion item in your closet:
D: Mr Porter tweed overcoat.
K: A bright-green WAY oversize wool coat. It's one of a few colored pieces in my closet, and thus gets a lot of mileage.
Favorite spa:
D and K: Ten Thousand Waves in Santa Fe.
Spa treatment of choice:
D: Deep tissue massage.
K: Old-school deep extraction facial.
What word in beauty nomenclature is overused?
D: "Nontoxic." Who knowingly sells toxic things!?! Toxicity is a threshold. But give the people what they want.
If you were a makeup shade, what shade would that be?
D: Pale Blue Eyes.
K: Joyful Black.
Any hidden or secret talent or skill you possess?
D: I can make a Japanese broth that is 80 percent as good as an expert's.
What is your personal definition of misery?
D: Standing up for hours in a line.
K: Being on the phone.
What is your personal definition of glee?
K: Looking at my day's calendar and seeing no meetings or evening plans.
What do you think Pantone's color of 2020 should have been?
D: I'm down with blue. Blue calls us to other realms.
K: A bright, alarming red. We are in a crisis.
What do you most often disagree with others about?
D: I think people confuse their favorite with "the best." To me, they are separate. I love bananas, but I'm not going to say they are better than alphonso mangoes.
K: What's a comfortable room temperature.
What's your commute like?
D: 10 minutes by skateboard.
K: 10-minute drive, and if I arrive by 7:30, a parking spot right in front.
Most impressive dish you make:
D: Biryani.
K: Dal bukhara. It cooks in the oven low and slow for 24 hours (served with David's biryani, natch).
What do you foresee as the top beauty trends for 2020?
D: Continuing of the sustainability model — lack of plastic. Brands trying to be badass and "edgy."
K: More individuality and variety. So many brands seem soulless these days. And geared toward "young people" (trying to avoid the M-word).
What product in your domain is misunderstood and should be a best seller? 
D: White Peacock Lily. It's one of my most favorite things I've ever made. It blends a hyperrealistic lily I built over a common perfume-lily accord. On a man, it's like wearing a fresh flower in your lapel.
K: '85 Diesel candle. It's by and large our team favorite, yet not at all in sales. I don't get it — it's the best one!
What product in your brand's product domain is currently your favorite (understanding that this could change all the time)?
D: I'm so into the Big Sur Hand Soap right now. It's so effective and is an all-time fave scent. It does the job of cleaning, as opposed to just smelling good.
K: I can wear Radio Bombay any time, even when I'm not in the mood for perfume.
If you won the Powerball tomorrow, what are the first five things you would do (after, of course, donating the majority of it to your top charities …)?
D: Buy a house for my sister, pay off parents' mortgage, build some sort of yoga-retreat center, buy a house in Nantucket, build a recording studio.
K: Design and develop a hotel, create a furniture line, buy a house on Nantucket, learn Russian, spend a year living in the south of France.
Not to get too philosophical, but … what do you want?
D: To become better always, and to spread joy.
K: To be a great mother to my children, a great friend to my loved ones, a great partner to David. To not spread myself too thin. To almost never complain.