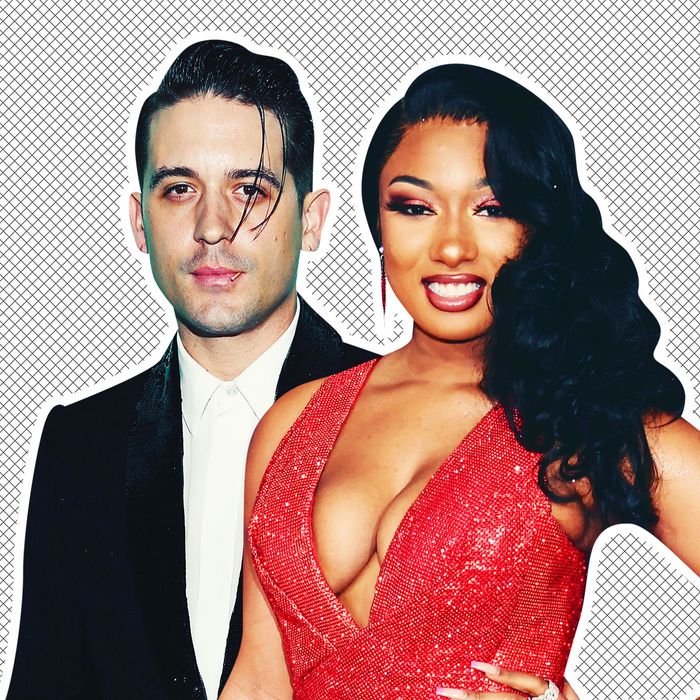 G-Eazy and Megan Thee Stallion.
Photo: Getty Images
Who among us has not made a regrettable dating decision? Even the most powerful are susceptible to it, which I kept in mind yesterday as I attempted to process the possibility that Megan Thee Stallion, a wildly talented artist and certified Hot Girl™, was maybe into a white rapper whom I only really know of as Halsey's tragic ex who famously had a horrible Halloween a few years back.
On Monday morning, I awoke to a number of disturbing videos of Megan and the man in question, G-Eazy, acting cozy as hell in Miami, where they both were in town for the Super Bowl. In one video that G-Eazy posted to his Instagram Stories on Sunday night, he can be seen cuddling up to Megan, and planting multiple kisses on her cheek with unnerving intensity. (While G-Eazy has since deleted the post, social media accounts like the Shade Room preserved it for posterity.)
That wasn't all. The Shade Room posted another video of G-Eazy and Megan partying at a club the night before the Super Bowl, in which their mouths make contact with much of each other's faces — lips, cheek, maybe even ear, I don't know. And, on early Monday morning, G-Eazy posted a sensual Instagram of Megan posing in her Super Bowl outfit, which he captioned with four blue hearts.
After viewing all the evidence, I nevertheless filed the incident away in my brain as a mere Fun Weekend Fling. As it turns out, I was right to be skeptical. On Tuesday morning, Megan clarified on Twitter that she is "not fucking G-Eazy." In response to a question on Twitter regarding all the face-sucking, Megan responded, "He like fenty 🤷."
What a journey this has been for us all!
This post has been updated.