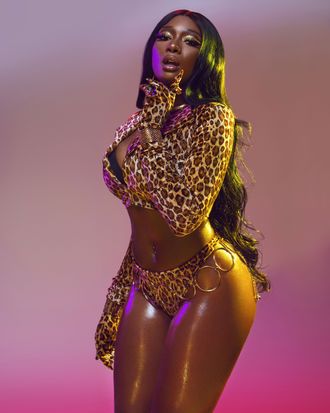 Megan Thee Stallion.
Photo: Courtesy of 2020 Photography/Courage Osolador
Rolling Stone's profile of Megan Thee Stallion is a refreshingly fun, enlightening read: You learn the exact part the 25-year-old Hot Girl™ is at in the anime Naruto, that she's currently pursuing a health-care management degree, and that she's very particular when it comes to her dancers' twerking. And while I found all 3,600-some words of it to be delightful, there is one particular exchange between the Houston rapper and writer Charles Holmes that will forever be lodged into my brain:
While talking to Megan, I let slip that I, personally, did not have a hot girl summer in 2019, despite the heights to which her philosophy rose across the nation. "I don't know what pain you holding onto," she says, concerned.




"First step, you got to spend more time in the mirror," Megan explains — for me, but possibly for herself as well. "Because once you get in the mirror and you start finding shit that you do like about yourself, you're going to stay in the motherfucking mirror trying to perfect that. That's how I am. Like, 'OK, what do you got going on? Bitch, you look good as fuck today!'"
Megan Thee Stallion: A phenomenal rapper — "a rapper's rapper who no one could ignore," to quote Rolling Stone — and overall performer, and also, apparently, the specific type of person you turn to when you're feeling low and want someone to gas you up. (Also the sort of person to recognize when you need gassing up even though you yourself may not realize, say, because you're in the midst of profiling Megan Thee Stallion.)
This makes sense, coming as it does from the force behind the Hot Girl Summer mentality. As Megan stressed in an interview with The Root last summer, the Hot Girl lifestyle isn't just for women, nor is it solely about appearances; instead, "it's just basically about women — and men — just being unapologetically them, just having a good-ass time, hyping up your friends, doing you, not giving a damn about what nobody got to say about it." A mentality we should all aspire to have!