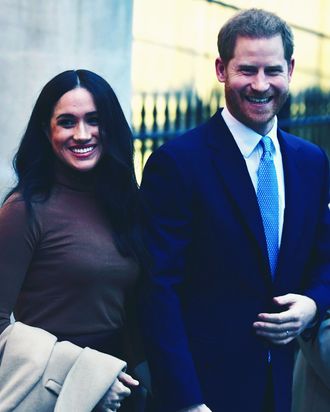 Sussex Normies, Inc.?
Photo: Daniel Leal-Olivas/AFP via Getty Images
Meghan Markle and Prince Harry have stepped back from their royal duties, moved part-time to Canada, and vowed to live independently as (sort of) normal people. The Duke and Duchess of Sussex announced last month that they shall "transition into a new working model," one that apparently includes driving their own cars and purchasing their own sandwiches. Which means that, like the rest of us, they will need to build their own brands: Sharing their Spring 2020 Transition plan, the couple confirmed speculation that any use of the word "Royal" will henceforth be off-limits.
Denying that they wanted to start some sort of Sussex Royal foundation, as rumored, Harry and Meghan clarified that they will "develop a new way to effect change and complement the efforts made by so many excellent foundations globally" through the creation of a "non-profit entity." While the exact nature of that entity remains murky, one thing is very clear: "Given the specific UK government rules surrounding use of the word 'Royal', it has been therefore agreed that their non-profit organization will not utilize the name 'Sussex Royal' or any other iteration of 'Royal.'"
On Wednesday, CNN reported that the queen had warned the duke and duchess against using this word in their forthcoming branding schemes. The couple reportedly submitted an application to trademark the term "Sussex Royal" last month as part of their bid to become "financially independent." The Daily Mail reports that the trademark was meant to cover a multitude of products including clothing (specifically bandannas), books, stationery, and teaching materials. They were also planning on using the name for their new charitable organization, and their "Sussex Royal" Instagram account has already amassed more than 11 million followers. Now, however, those trademark applications have been revoked.
According to the Daily Mail, the royal branding "placed the queen in an invidious position given her long-held conviction of refusing to allow working members of the family to profit from their positions." One of her aides told the Times of London newspaper earlier this month that the queen did not find Meghan and Harry's trademark bid "satisfactory," because "one cannot be two things at once. You either are [royal] or you're not."
According to the transition plan, "There is not any jurisdiction by The Monarchy or Cabinet Office over the use of the word 'Royal' overseas." Which would seem to mean that Harry and Meghan could technically continue on as the Sussex Royals of Canada if they wanted to achieve stunning new levels of regal pettiness, but per their statement, they don't. Perhaps they can rebrand as "Sussex Normies Inc." instead?
This article has been updated with official confirmation from Prince Harry and Meghan Markle.