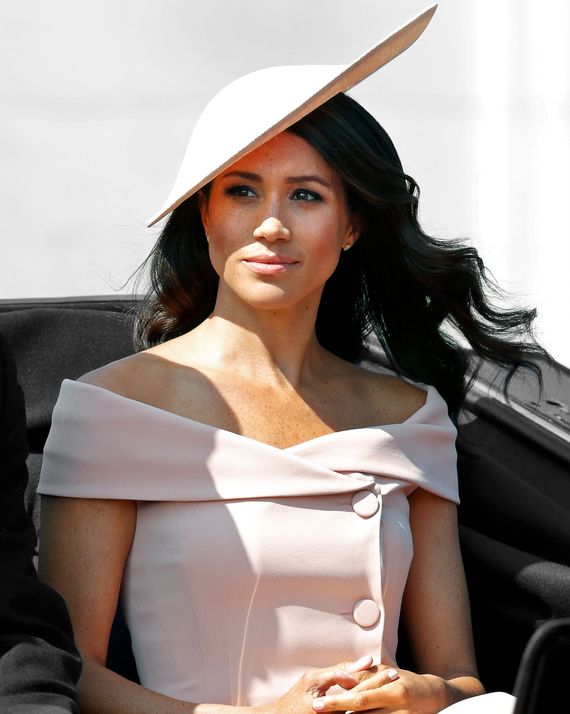 Photo: Max Mumby/Indigo/Getty Images
To judge by all the hype surrounding Harry and Meghan's retreat from royal duties — the fine parsing of their (now-defunct) HRH titles, the coverage of Meg driving her own car or picking up a friend from the airport — you could easily imagine Megxit a cataclysm on par with, well, Brexit. But weirdly, Megxit turns out to be a phenomenon that proves its own impossibility. What I mean is, in the end, Megxit has done nothing but re-princessify its heroine. In renouncing her title and leaving England, Meghan Markle managed only to become even more of a princess than she was before — proving that princess-hood is bigger than all of us.
From the beginning, the media's version of Markle's saga has hewn very closely to the classic Cinderella story, which has remained constant for centuries: A poor, ill-dressed, but beautiful maiden toils at dreary tasks, oppressed by her cruel stepmother and stepsisters. A handsome prince falls in love with the maiden and marries her, transforming her into a princess. The prince then whisks his bride away from her sad existence and grants her a lifetime of happiness (and a dramatically improved wardrobe).
Meghan Markle thrilled the world by seeming to reenact this story. True, she was not a destitute servant, but a role on Suits hardly qualifies one for the nobility. Like Cinderella, Meghan was painted an outsider — a commoner, American, biracial, divorced. She didn't have an evil stepmother, but she certainly had troublesome relatives who played their parts well — an embarrassing father, a vindictive half-sister. But within the princess narrative, Harry, like Prince Charming, saw past all that. He rescued Meghan, saving her from salaried employment, her family, and mid-level celebrity. Through Harry, she was catapulted into global mega-princess-stardom, as well as some great new looks by Claire Waight Keller.
But as we all know, Meghan did not get her happily ever after. Once the storybook wedding was over, and after a few thousand pics of her in boat-necked pastels and fascinators, the narrative changed. The tabloids and even some palace insiders turned on the princess. She was harassed, stalked, criticized, her parenting skills impugned, her every move dissected — often with obvious racism.
While the details of her misfortune were specific to Meghan, this narrative twist was not. We should have expected it. We saw it years ago when Diana Spencer married Prince Charles. In part, the problem lies in the obstacles inherent in marrying into the antiquated royal family. But it's deeper even than that — it's structural, stemming from the princess narrative itself.
The thing is, the plot of Cinderella (and all her fairy-tale sorority sisters) ends with the royal wedding. We never see Cinderella's future (or Snow White's or Ariel's or Julia Roberts's after Richard Gere rescues her in his limo). We assume they go on to lifetimes of happiness, but we don't actually know. Fairy-tale princesses don't have futures; they can't. If they did, they'd lose their magical aura. In a future, they would have to age, and maybe morph into one of the few, very undesirable older fairy-tale characters: evil stepmother, vengeful Queen, witch, crone.
When real-life women enter this ancient story line, when they are subsumed into what Peggy Orenstein calls the "princess industrial complex" — the pop-cultural universe devoted to marketing princess-hood with merchandise, TV shows, magazine stories, films, etc. — they have nowhere to go afterward. There's no princess-y future available to them.
What to do? Well, the only way around this is to start the whole narrative engine up again from the beginning — turn the princess back into a victimized girl who needs saving. Cue the media phenom of "Megxit" — which replays the Cinderella story once more from the top.
Megxit casts Meghan once more as the prisoner of a toxic and oppressive family. Articles detail how she's been "absolutely destroyed," and needs "protecting" and "defending." There was a "furious" Queen to placate and escape (recasting the usually benign Elizabeth II in fairy-tale evil mode). Once more, in this telling, noble Harry bucked family tradition — this time to rescue his wife from the very situation into which he'd rescued her before, saving her from his family instead of her own.
Helping it all along, Meghan has been portrayed as a damsel in distress, tearing up in interviews and describing herself as "vulnerable" and "not okay." Comparisons to Princess Diana are invoked — ostensibly as cautionary tales ("we must protect Meg from Diana's tragic fate") but also to polish and enhance Meghan's princess-y allure, so useful in selling newspapers and magazines.
And so, in a kind of royal reworking of Groundhog Day, Meghan has returned to square one. With the help of her prince, she once again escapes an oppressive family environment and is whisked off to a life of ease and splendor — first in Canada, where she sets up shop temporarily in a borrowed mansion, and soon perhaps to Los Angeles, land of dreams.
Here in North America, while she may be "stepping back" from her U.K. royal duties, Meghan will be transformed into a different, perhaps more powerful kind of royal: a full-fledged pop-culture princess. For proof of this, we need look no further than the partner chosen for her first business deal post-Megxit: Disney, world headquarters for all things princess, the company whose logo is a magical castle. There are also apparently major fashion deals in the works, including one with Givenchy — the very designer label that created her signature princess look.
Beyond Meghan herself, the princess-industrial complex has been churning in overdrive. Amazon is offering over 250 new branded "Megxit" products for sale — T-shirts and mugs emblazoned with tiaras and slogans like "Keep calm and Megxit on," or "Megxit: When you leave that toxic relationship [for] your best life." All items to help induct new recruits into the worldwide army of princess wannabes.
Meg and Harry may be sincere in wanting out of this tyrannical system. I respect that. I respect Harry's desire to spare his wife the terrible fate that befell his mother, and Meghan's desire to escape it. And if they want to live in ostensibly more democratic North America, I say "Welcome!"
But these personal details all pale in comparison to the enormous, uncontrollable will-to-princesshood that saturates our pop-culture universe and its ongoing, limited message to young women. Once someone gets plugged into the princess narrative, there is no way out. Cinderella is woven too tightly into our cultural DNA, and Meghan Markle — consciously or not — is but another strand in that double helix.