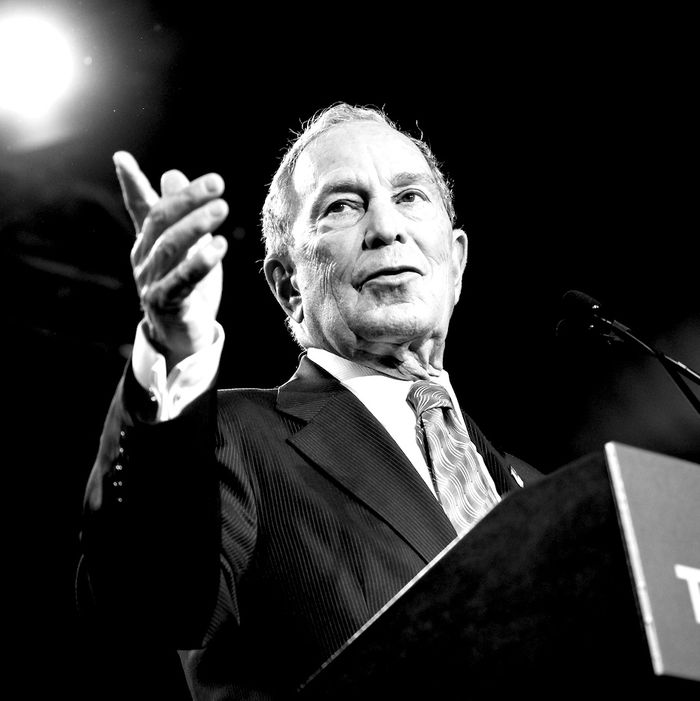 Michael Bloomberg.
Photo: Brett Carlsen/Getty Images
Allegations of sexism and gendered workplace harassment are nothing new for Democratic presidential candidate Michael Bloomberg: In the past 20 years, Bloomberg's eponymous business information company has reportedly been hit with nearly 40 discrimination and harassment lawsuits from 64 employees, many of whom contend that he cultivated a boys' club atmosphere from the top down. On Saturday, a Washington Post investigation resurfaced some of the more damning claims against the 78-year-old and the toxic work environment he allegedly established.
The candidate, meanwhile, maintains that he "would not be where [he is] today without the talented women around" him. "I've depended on their leadership, their advice, and their contributions," Bloomberg tweeted Saturday, in apparent response to the Post's article. "As I've demonstrated throughout my career, I will always be a champion for women in the workplace."
Below, we've compiled the more egregious comments Bloomberg has allegedly made about women.
Pregnancy discrimination
According to the Post, when Bloomberg learned that former salesperson Sekiko Sakai Garrison (who sued the billionaire in the late 1990s) was pregnant in 1995, he reportedly told her to "kill it." Other employees allegedly overheard the remark, but still, Bloomberg called Garrison shortly after the incident, denying that he'd insinuated she should terminate her pregnancy. Garrison was fired a few months later.
In her lawsuit, Garrison also recalls Bloomberg taking another female employee to task for her pregnancy, responding "what the hell did you do a thing like that for" upon learning the woman was having a baby. In another instance, according to the lawsuit, he allegedly screamed at a woman who was looking for a nanny, "It's a fucking baby! … All you need is some black who doesn't have to speak English to rescue it from a burning building."
In depositions from Garrison's case, which they settled for an undisclosed sum, Bloomberg repeatedly denied the claims. "I never said those words and there would be no reason to do so, it's ridiculous and an outrage," he said, according to the Post.
Sexual harassment
In 2001, New York magazine published excerpts from a booklet compiled by a Bloomberg executive in 1990, cataloguing some of the boss's more colorful workplace remarks. "Make the customer feel like he's getting laid when he's getting fucked," he allegedly said.
"If women wanted to be appreciated for their brains, they'd go to the library instead of to Bloomingdale's," read another alleged Bloomberg quote, along with: "I know for a fact that any self-respecting woman who walks past a construction site and doesn't get a whistle will turn around and walk past again and again until she does get one."
Also included in the booklet, published now in full online, are misogynistic, disparaging remarks Bloomberg reportedly made about the British royal family: "What a bunch of misfits — a gay, an architect, that horsey faced lesbian, and a kid who gave up Koo Stark for some fat broad," he is alleged to have said, apparently in reference to Prince Edward, Prince Charles, Princess Anne and Prince Andrew.
A spokesperson for the Bloomberg campaign, Stu Loeser, told the Post that "Mike simply did not say the things somebody wrote in this gag gift." The pamphlet's editor, Elisabeth DeMarse, maintained in 2001 that the quotes were verbatim, explaining that "this is Bloomberg culture," and her boss was "very uncensored."
According to Garrison's complaint, Bloomberg also responded to news of a male employee's engagement by telling a group of women in the sales department, "All of you girls line up to give him [oral sex] as a wedding present." Additionally, Garrison alleged, he often said things like, "I'd fuck that in a second" in reference to women in the office, and explicitly expressed interest in having sex with Garrison. According to her complaint, he also asked a new sales associate: "If [clients] told you to lay down and strip naked so they could fuck you, would you do that too?"
Additionally, Garrison says that when Bloomberg learned she was getting married, he responded: "What, is the guy dumb and blind? What the hell is he marrying you for?" And a week later, she says he followed up: "Still engaged? What, is he that good in bed, or did your father pay him off to get rid of you?"
After Garrison left the company, another employee — Mary Ann Olszewski — sued Bloomberg LP in 1996, alleging that the company "took no steps to prevent or curtail the ongoing sexual harassment of female employees by Michael Bloomberg." As a result, the Post reports, male employees from Bloomberg (whom Olszewski alleged used to say things like, "I'd like to do that piece of meat" about the women at his company, which Bloomberg denied) down operated on the "sexual degradation of women." As a result of an office environment that allowed harassment to thrive, Olszewski argued, she was raped by her supervisor.
Discrediting #MeToo
Speaking to the New York Times in 2018, Bloomberg seemed to defend his friend Charlie Rose — the PBS host accused of rampant sexual misconduct, some of which allegedly occurred in Bloomberg's studios — saying, "The stuff I read about is disgraceful — I don't know how true all of it is. … We never had a complaint, whatsoever, and when I read some of the stuff, I was surprised, I will say. But I never saw anything and we have no record, we've checked very carefully."
Given the sheer volume of harassment lawsuits against Bloomberg's company, that seems like a bold claim, but the candidate wasn't finished. "You know, is it true?" he continued, still speaking about the allegations against Rose. "You look at people that say it is, but we have a system where you have — presumption of innocence is the basis of it."
Disparaging transgender people
On multiple occasions, Bloomberg has reportedly referred to transgender women as men wearing dresses. In March 2019, BuzzFeed reports, he seemed to dismiss insistence on protections for transgender people as a litmus test for political support. "If your conversation during a presidential election is about some guy wearing a dress and whether he, she, or it can go to the locker room with their daughter, that's not a winning formula for most people," he said at a forum in Manhattan.
Although Bloomberg's campaign told BuzzFeed that "Mike understands that the transgender community has been under attack for decades" and that he's "running to defeat Donald Trump" in part because he wants to "reverse the many policies he [Trump] has implemented that attack the rights of the transgender community," 2019 would not seem to be the first time Bloomberg trotted out this particular description. In 2016, talking about the North Carolina law that barred trans people from using the bathroom aligned with their gender identity (a law that Bloomberg LP officially opposed), Bloomberg reportedly said: "If you want to know if somebody is a good salesman, give him the job of going to the Midwest and picking a town and selling to that town the concept that some man wearing a dress should be in a locker room with their daughter."
This post has been updated with additional information.