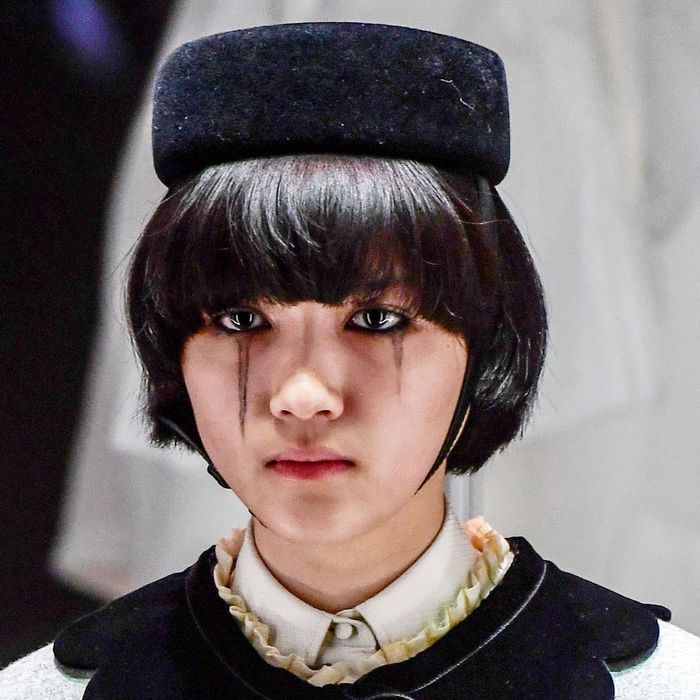 A model with mascara tears at Gucci F/W 2020.
Photo: MIGUEL MEDINA/AFP via Getty Images
This time last year, Alessandro Michele sent models down the fall 2019 runway wearing waxy, prosthetic tears under their eyes and atop their chiseled cheeks. At today's fall 2020 show at Milan Fashion Week, models were once again sporting a very emotional beauty look, but this season's tears are far more accessible and "wearable" in real life.
Rather than obtaining prosthetic cut-outs to stick on your face, this look only requires two things you already have: mascara and a chronic need to cry. For the former, makeup artist Thomas de Kluyver used the tip of a new, soon-to-launch Gucci Beauty mascara called Mascara L'Obscur to paint product under the eye (and on lashes as intended). To simulate the latter, he mixed the mascara with water to create a "tear effect." No word on if any real tears were mixed into said "water" concoction.
We'll have to wait until the mascara drops to see if it's cry-proof or not (it'll be available "soon"), but holding in cathartic crying sessions until an ambiguous date is not recommended. If you want to hack the look now, apply some liner and mascara, mimicking Lauren Conrad's signature look. Then, confront Audrina about not inviting you to a Thrice concert to get those tear ducts nice and watery. Once the tears (or tear) start to trickle down, resist the urge to swipe, do some eye-fanning, and avoid using any tissues (gotta love an eco-friendly beauty look.)