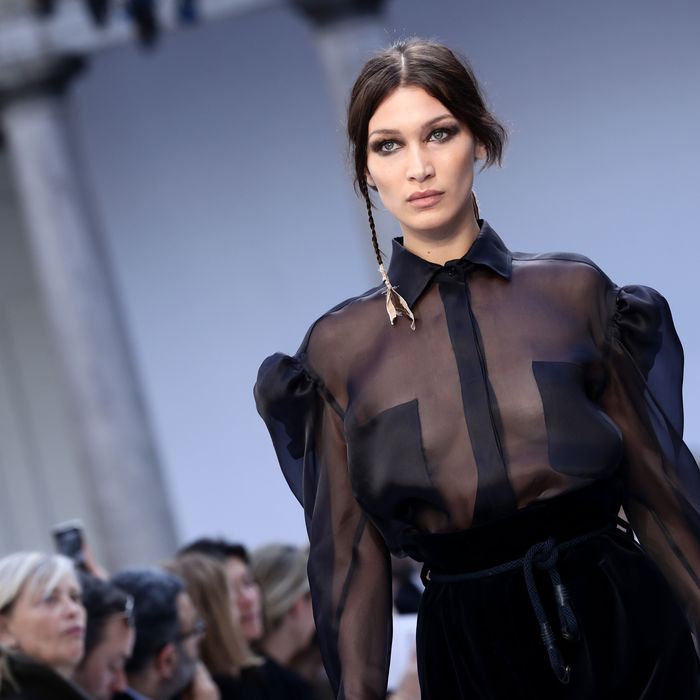 Photo: Vittorio Zunino Celotto/Getty Images
When it comes to Italian fashion, there are generally two ways to display wealth. Either you're really flashy about it — a Moschino cake dress, Versace chainmail pants — or you prefer a quieter, more comfortable kind of luxury, like a Max Mara camel coat, or a Loro Piana cashmere sweater.
"It's not about looking expensive, it's about feeling expensive," designer Marco Zanini told me from his cozy but exquisitely decorated Milan apartment. A small pillow embroidered with the phrase "riches are meant to be spent" pretty much summed it up; Zanini is all about quality. He sources the best, softest, most durable materials from Italy, England, and Japan, and with them constructs garments that look simple but couldn't be more special. (And, sadly, costly.) You could imagine spending the rest of your life in his crisp white shirts, for example. But just because luxury is low-key doesn't mean it isn't boastful — think of the matching sweatsuits everyone seems to be wearing on Instagram. This season, Italian houses really leaned into the idea that minimalism can be a spectacle in its own way, too.
After the dizzying merry-go-round of a Gucci show on Wednesday, Jil Sander was like Dramamine — in a good way. The show took place in a sparse concrete room. Models walked and sat on wooden chairs lined along the runway. It was all very monastic, but the collection was so exceptional, I wanted to yell, "Take my money!" at all of it. Jil Sander designers Lucie and Luke Meier have found a way to make the brand's signature minimalism sumptuous and exactly the right amount of strange. I've admired their work over the last few seasons (they joined the brand in 2017), but this show was one of their strongest, if not the strongest, to date.
The collection was rich in detail — a masterful combination of materials and tailoring. A simple black dress, for example, was made out of a woven box-stitch velvet that stretched and bounced on the model's body. I could only moan at the sight of a Jil Sander scarf-dress, or at the thought of sliding into a cashmere tube. Personality was not sacrificed for comfort, though. Supple, cozy materials were balanced with sharp silhouettes and techniques like quilting, which gave pieces like jackets a sort of pinstripe effect. Volume — in the form of big sleeves, ruffled edges, plus lots, and lots of fringe — also gave the collection energy.
At Max Mara the following morning, I was pleasantly surprised to see a moodier, edgier take on the brand's signature "teddy bear" look. There were still camel coats, to be sure, but creative director Ian Griffiths took his muse out of last season's corporate office and on a stormy sea voyage, with a collection of mostly dark navy and gray. Models wore thick eyeshadow. He balanced this dark mood with soft femininity in the form of poofy sleeves and ruffles. (So many poofy sleeves this season.)
Bella Hadid, for example, closed the show in a delicate sheer shirt, which was paired with thick velvet pants. Actress Gemma Chan, who sat front row and is the brand's Women in Film "Face of the Future" Award recipient this year, was also on-theme in a dark black coat and white bottoms.
Fendi, which is known for its fur, and for generally being pretty ladylike, also presented a femme fatale this season. Inspired by the 1975 film Maîtresse, starring Gérard Depardieu and Bulle Ogier as a dominatrix, designer Silvia Venturini Fendi turned the runway into a boudoir, with soft pink cushioned chairs and a thick carpet. (Karl Lagerfeld, who designed for Fendi until his death last year, used to dress Ogier.) The attitude of the collection was very "sweet but psycho" — the exact opposite of last season's "Age of Aquarius." My favorite look was a sleeveless cashmere sweater dress with a corseted waist, which hugged model Karen Elson's body like a glove. I like this new good-girl-gone-bad direction for the brand; Mrs. Fendi is clearly taking pleasure in her newfound power, as she should.
If there's anyone who's going to balance minimalism and maximalism, soft and hard, femininity and masculinity in ways that aren't obvious, it's Miuccia Prada. She told the press that she wanted to present a new take on feminine "clichés," like fringe, florals, sheer fabrics, and heels. Conservative, ankle-length skirts were cut up like spaghetti and worn with menswear-sized blazers. Heels were given sneaker soles, and sheer dresses resembled basketball jerseys. (These were my favorite.) It was a little all over the place for Prada, but it felt more elevated than last season, and less casual. You may not want to wear it for the rest of your life, but isn't the best life one with some special occasions?