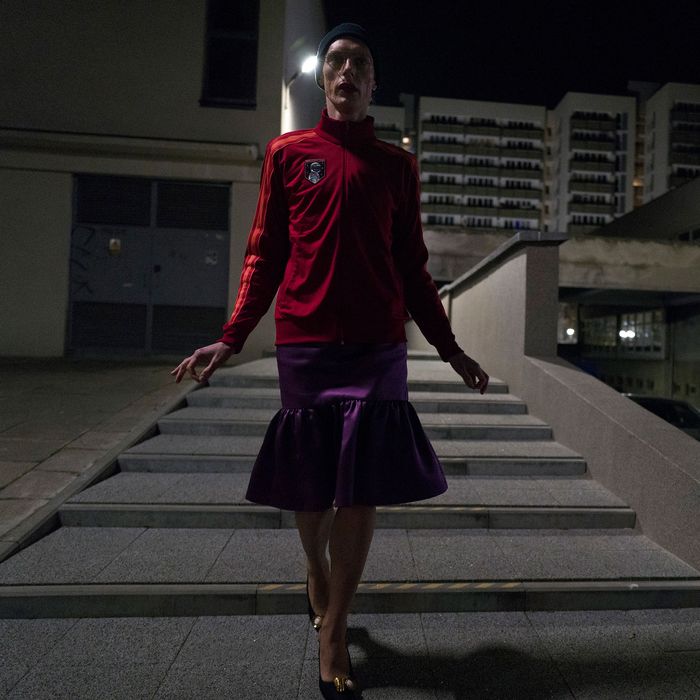 Photo: Courtesy of Miu Miu
Miu Miu's short-film series "Women's Tales" released its 19th installment earlier this week at a theater in the East Village. The film, titled Nightwalk, was directed by Małgorzata Szumowska and stars Filip Rutkowski and Raffey Cassidy.
The film opens in a cramped apartment in Poland. Rutkowski, dressed in a red tracksuit, is watching sports with his dismissive, macho father. Cut to an immaculate minimalist apartment, where Cassidy, dressed in a Miu Miu skirt and top, is sitting in tense silence with her hyperfeminine mother. No words are spoken throughout the film, but Cassidy and Rutkowski both leave their homes and meet in the middle of the night.
Rutkowski is genderqueer and often wears clothes that are coded feminine, though he uses he/him pronouns. (A Miu Miu fan, he was delighted to finally get a pair of Miu Miu shoes in his size shooting the film.) Szumowska said on a panel discussion after the premiere of the film that she was inspired by Rutkowski's bravery because Poland is a pretty conservative, Catholic place. In a release, she also said that the film shows how "you can use fashion to do something important, that supports women, and promotes tolerance." Watch the film below.