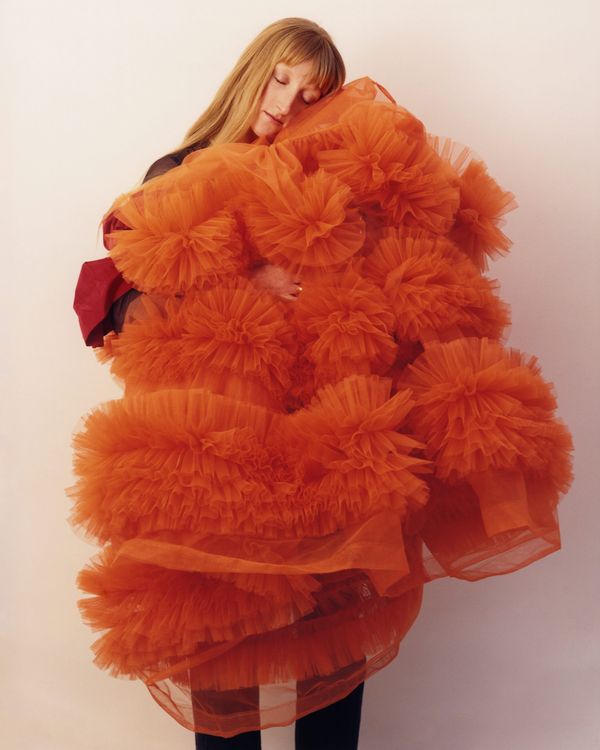 Molly Goddard nuzzles her material of choice.
Photo: Courtesy of the subject
Molly Goddard is a tulle-whisperer — maybe the tulle whisperer. The London-based designer, 31, has made the fabric her signature, wrapping her muses and models (as often as not, her friends) in layers upon layers of the stuff, nearly 300 feet of it for the largest and most fantastic. What in lesser hands could feel cloying or caricatural is in Goddard's pretty and even punk — one reason her dresses have been taken up by everyone from Rihanna to Killing Eve's murderous Villanelle. As her brand has grown (it is now stocked around the world, at Dover Street Market, Net-a-Porter, Nordstrom, and others), Goddard has remained closely tied to her small team, her family-and-friends team of collaborators, including her stylist sister, Alice, and model Edie Campbell, who frequently tromps down her runways. Her spring collection is now arriving in stores; after the show last fall, Goddard sat down with the Cut to discuss success and failure and taking up space. Goddard's next collection hits the runway at London Fashion Week tomorrow.
It's an interesting time for you right now. You've taken your brand from something that was kind of cozy and small to something that's getting so much attention. I'm not surprised you wanted to go bigger last season and fill the room, but I can imagine that's also a mixed blessing — that it brings a lot of pressure and a lot of questions and having to reexplain it for everyone.
You almost think, "Do we reign it in?" Not because we don't have money, because we do, but we don't want to keep growing as a company necessarily. I feel quite comfortable. We want to grow a little bit more, but the aim isn't to become a whopping company. Even though we still had 500 people at the show, it still felt nice.
One review mentioned that everything brushed by you, and it reminded you that these are real things, which is so easy to forget at a fashion show. It's like watching a movie when you go to these giant shows, and it's miles away from you.
I almost didn't want anyone to see the full looks. I liked the idea that you might grab little details, and then you'd really want to go see the clothes afterwards and think how was that made, how was that put together. To me it was more about feeling the mood of the whole show and what it means to wear the clothes.
What does it mean to wear the clothes?
Uhh —
I'm asking an impossible question, but unfortunately you've teed it right up.
Some things are heavy, but I think everything is quite comfortable because everything is oversized, or stretchy and elasticated. They take up space — but it's comfortable space to take up. People are always surprised that they feel comfortable and free in them, rather than like "I'm wearing a massive puff-ball, ball gown." You're not in a corset; you could wear a T-shirt underneath it and no one would even know. That's what I like — they don't change you. They complement you
There's something naïve about them that I've always liked. They feel dressed up, but not "sexy" or pushed up or tightened. I hope you won't be offended if I say this, but it's almost like a little girl's fantasy of dressing up — this sort of princess gown.
Yeah — although I don't love "princess." They are undeniably very feminine, very pretty. You can wear them in a way that's incredibly princessy, but whenever I wear them or my friends wear them or people that I love wear them, it's always with a laidback, non princess-y attitude.
There's something punk about being a princess and then running out of the back of the castle.
Yeah.
Tell me about your early experiences with clothes. Was this look a fantasy of your childhood, or have I embroidered that myself?
I was looking at some photo albums the other day, and what I used to wear definitely is a big inspiration to what I do now. My mom dressed me in big, smocked dresses and sweatshirts. I look quite cool — like a little cool, funny child in far too many layers and Wellie boots.
So not too far from where we are today.
Very, very close. I think in a way that is it.
I don't want to psychoanalyze it too much, but you work with your mom, right, and with your sister?
Well, I don't work with my mom anymore. She used to do the sets for the show, but we're not doing that anymore. But my sister still styles it.
So it still has some of this feeling of family.
Yeah. Me and Alice have always been so interested in clothes. We made clothes for each other, we made clothes for ourselves. We grew up in London, where we used to go out dancing all the time, and we made things to go dancing in. I lived near Portobello Road which I think was a massive inspiration growing up. Everyone wore such interesting clothes, and there were such incredible stores.
What would you find to dress yourself up in?
Probably my mom's old clothes. But I also was a real tomboy. It wasn't ever prim — I was never a fussy dresser.
Your aesthetic has been so clear from the beginning. Did you have an experimental phase early on? Bandage dresses, or Ralph Lauren? Or was this look always in your mind?
I quite like Ralph Lauren's stuff, but it's always been like this. My B.A. was when I took the path from baby dresses and blew up my kid dresses so the proportions were all really weird — like enormous armholes and really short bodies. I think there were similarities with this collection. I went a bit rogue on my M.A. , because I felt like there was pressure for everything to be a bit wonky. And just tried too hard to do what I thought was expected, to do something incredibly conceptual, whereas really what I love is texture and smocking. That's when I started doing smocking and got really into that.
So you had it right the first time. You followed your heart.
I think sometimes it is easy to get sidetracked and forget about that one silhouette I really wanted to do.
I imagine the dresses get more complicated as they get bigger. It's not just winding a bolt of tulle around someone.
Well, there is no architecture under any of it. Sometimes you're like "I want that dress to be bigger," so you think "Oh, well, we can just put a big skirt underneath it," but I never liked doing that. The structure is the structure, and it's all kind of self holding. You go up and up and up. The big one had 90 meters in it.
Do you find that there's a diminishing return? Is there a place afterwards where you get bigger and bigger and bigger and suddenly it doesn't add any more?
It always adds more, but you don't want to make it big for the sake of it. It's a bit of a challenge. The structure of this skirt is curved panels, so you don't get this —
So you don't become a walking pyramid.
Exactly. I'll draw it and I talk through the proportions that I imagine. I use lots of weird words to explain exactly how much move and hold, and whether it is really rigid or how does it move.
Now that you're growing, how much do you have to think about what the stores want and what the customers want — the world outside of the studio?
It's a constant conversation that we have. We have a whole other rack of things that won't be in the show but will be in the showroom. We really want to get the right fit of those things to get them as perfect as they can be. What's fun is that the big show pieces do sell, even if you might only make three of them. They're made by one of our machinists in London who has this small studio. Nothing is really mass produced at all. Everything is produced in quite small quantities. The big ones definitely are. Normally it's under ten, but they sell and they sell for quite a lot of money.
That must be very satisfying. The highest point of the dream still lives.
In the beginning buyers often said, "It'd be great if you made a T-shirt," and you could so easily go into that world, where you make two of the big dresses and then everything else is a T-shirt.
Have you had to do that?
No. It's nice that it's actually, like, "No, make more big, more big, more big!" Maybe one time it'll all just be big, I don't know.
Have you had people come to you for custom giant things? Wedding gowns and things like that? I can see floating down the aisle in a big, giant puff.
I think we've done five custom wedding dresses for people, but they've all been friends. We did Agyness Deyn's dress. That was quite nice.
It seems like the friend part of it has always been important. There's always been a connection between you and the people you work with. It gives it something extra that makes it feel — I hate the word "authentic" — but you feel the connections there in a different way.
I do genuinely think, "What is the point if you're not having an enjoyable time?" It sounds so annoying, but I feel like it makes a big difference — you feel it. At least I can feel it, because everyone on the show day was happy and the models were quite happy. I think that makes all the difference, and that's from being a small team and being close to everyone you work with. Everyone we work with we've worked with for a long time.
Does that make it strange then, when you've now established yourself enough when people you've never met and probably will never meet are wearing the clothing? Does it feel different to you when it's on Killing Eve or suddenly Rihanna's in it?
Well, no, because me and Rihanna will be friends one day. [Laughs.] We've met. So she's basically a friend. But for other people, I think it's always quite weird when you see people wearing it, but everyone wears it quite well.
I swore I wouldn't ask you about Killing Eve, but this is my backdoor way of asking.
It's funny to be asked about something that I had very little control over. That was a dress from, like, my third season. A year after that, the costume designer got in touch and then just bought it from us. We had made two for our archives, and we sold her one of those. Two years later Killing Eve comes out, so it's all in a way quite separate.
It must feel strange to have somebody else reinterpreting your vision in such an amplified, loud way.
But it was in a good way. Rihanna or Killing Eve, they've been really great. For us not to have had any say, or very little say, in what they did and how they did it, luckily enough they both totally got it. Rihanna wearing trainers in the corridor with a massive dress is exactly how everyone should wear it. Killing Eve, you don't want to say killing someone is it, but running around in biker boots is great.
Do you do anything for yourself after a show to recover, or is it immediately you're onto the next task?
I always feel weird. You feel a bit empty because you've been making certain decisions and then you don't have that much to do. I sometimes mope around the studio, while everyone else has got things to get on with. I get out when I can and go researching. I'm going to get to a library and start my next season — to Central Saint Martins and LCF and the V&A.
Ah. I was envisioning you looking at paintings — the Pre-Raphaelites or something — but it really starts with dress.
I think so. But never anything in any way current. Louise Wilson— if you had any research in your book from within the last ten years, she would rip it out. That has always stayed with me. So I don't ever look at anything that's current.
So, historical fashion.
Kind of. I love looking at old The Face magazines and i-D, the first ones of those. Normally for styling or mood or the people, because the people were so interesting then. I do look through art books and books about houses, because often the people in great houses have great clothes or great hair. I pull everything. It's not just fashion. CSM has everything. I like going to art shows and going to costume places and vintage shops and markets — Alfie's Antiques and all those places everyone likes to go, I like to go. And people watching. I'm going to try to do some hardcore people watching in Paris.
Why do you think your work connects with people the way it does? 
Quite hard to say. I don't think what we do takes itself too seriously, but I don't know if that's the best way of saying it. There's no attempt for it to be anything but what it is. You can do what you want with that. You don't have to fit into it. I like to think that people wear it and don't feel like —
A character, or —
Yeah, or "fashion"! I think it's more low-key than that.
I think that's right. It's sincere. It doesn't burden you with being a sexpot or a conceptual fashion person or a student of history or a political statement or any of these things.
Yeah. Maybe that's why I find it so hard to talk about it. It's just clothes that we like to make and wear.
I think a lot of other designers spend a lot of time sweating about how to make things that reflect the moment.
I don't really want to do that. I think unconsciously it all seeps in, doesn't it?
Are there any other Louise Wilson-isms that you remember that guide you through the day?
Oh, loads. She was the funniest, rudest person ever. I think about her a lot. Researching, learning how to research and what you do with it — that's one of the main things I learned. Maybe the whole thing. What I realized with the M.A., I was trying so hard to do what I thought everyone wanted to see, what I thought she wanted to see, or what my fellow students would be interested to see. And it was such a flop. I basically failed. All Louise had been saying the whole time, any time I made anything, she would be like, "That is fucking shit!" She would keep showing me my B.A. work and be like, "Why aren't you just doing this?" And that's now what I am doing. She made me realize, do what it is that you are best at and what you like doing the most. And what I like the most is like making things out of loads of tulle.
Molly's sister, stylist Alice Goddard, has worked with The Gentlewoman, L'Uomo Vogue, and brands like Margaret Howell and Sandro.
Home of one of London's best vintage and antique markets.
The collection she made as the culmination of her undergraduate studies at Central Saint Martins, in London.
Her master's collection, also at Saint Martins.
Goddard designed the dress Deyn wore for her 2016 wedding to Joel McAndrew in New York.
The star has worn Goddard's dresses on several occasions; after one of the most high-profile ones, which Rihanna posted to Instagram in October 2017, Goddard reported seeing several Halloween imitations.
The London College of Fashion, at the University of the Arts, London.
The Victoria & Albert Museum, which specializes in English art and design.
Louise Wilson was the late mentor of Goddard and many of the other now-reigning London designers. A 15-year veteran of Central Saint Martins, she died in 2014.