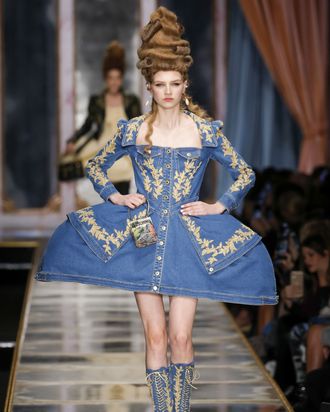 Photo: Victor VIRGILE/Gamma-Rapho via Getty Images
As a Texan, I have loved seeing cowboys on the red carpet recently — specifically Lil Nas X, Kacey Musgraves, and Orville Peck. And now, the proprietors of Italian fashion houses have caught on. I am talking, of course, about non-Italian designer Jeremy Scott, who, in today's Moschino fall-winter 2020 show in Milan, combined Marie Antoinette and denim to create a delightfully surreal collection.
Scott told Vogue he was directly inspired by the current political turbulence in the United Kingdom, Chile, and Hong Kong, which made him think of the French monarch.
Only the first look really evoked a cowboy; the rest were influenced by the '80s. Some were styled as biker jackets, printed in toile, and accessorized with lace-up boots. Of the 67 looks in the collection, 20 had mini-hoopskirts jutting out like lampshades. Five of the closing outfits closely resembled cakes or other confections, giving the show a vibe similar to the "Be Our Guest" number in Beauty and the Beast (also "French," just like Marie!).
This is far from the only time a designer has revived Marie Antoinette by mashing up hoopskirts with a more contemporary reference. Raf Simons's fall 2014 collection for Dior evoked both the space race and the cake-loving monarch. But that collection used a lighter touch, whereas Scott, as is his wont, thrust it in your face. Last February, his collection focused on pop culture, ending with a gown that looked like a TV dinner. This year, it's the opposite inspiration: aristocratic, disengaged opulence brought down to earth by denim miniskirts and leather jackets.