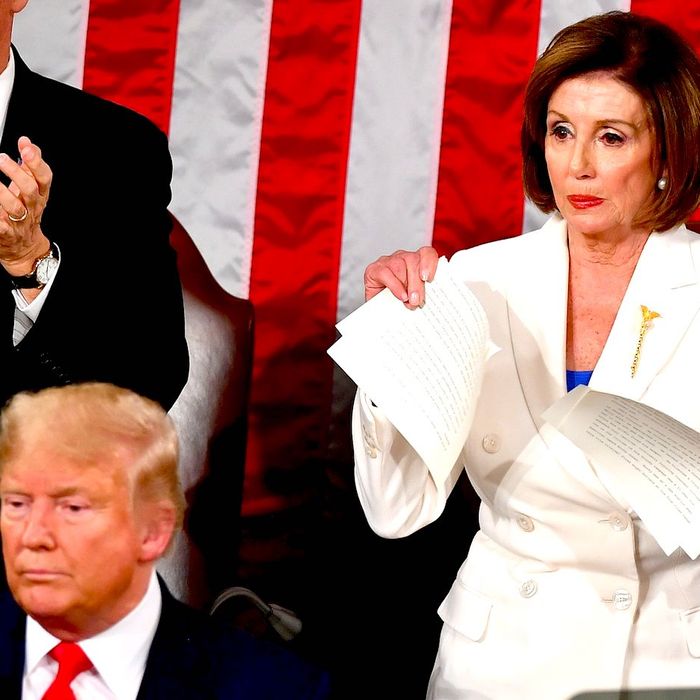 Bye!
Photo: MANDEL NGAN/AFP via Getty Images
Having absorbed more than an hour of President Donald Trump's monotonous propaganda address, House Speaker Nancy Pelosi forewent cursory applause and did what I believe all of us wish we could: She ripped up her copy of the speech as soon as Trump finished.
Here she is, over it:
The Democratic congresswomen attended the event dressed in white, for the second year in a row, in an act of solidarity; their intent, per the Democratic Women's Caucus, was "to send a strong, unified message of persistence in fighting for the people." And as the address progressed, some of the Speaker's Democratic colleagues walked out in protest — including Rep. Rashida Tlaib, who said she was motivated to do so by "the lies, the bigotry, and the shameless bragging about taking away food stamps that people depend on to live."
But Nancy, seated directly behind the president for the entirety of the event, she just let 'er rip. "It was a dirty speech," she explained after the address had concluded, according to NBC White House correspondent Geoff Bennett. "It was the courteous thing to do, considering the alternative."
Let's hit it again:
Pelosi and Trump have repeatedly sparred, the president going so far as to swerve her extended hand earlier this evening. Although it is State of the Union custom to shake with the Speaker before the address begins, Trump simply turned his back on the leading Democrat. But you know what they say: She who laughs last laughs longest. So, one more time, with feeling!
Riiiiiiiiip.