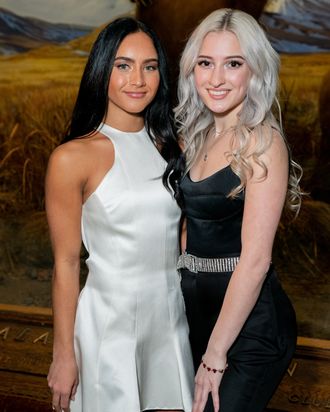 Gabi Butler and Lexi Brumback.
Photo: Kevin Tachman
Negativity is trending at New York Fashion Week. All the bold-faced names are gone this season (Tom Ford, Ralph Lauren, Calvin Klein) and the cool kids too (Pyer Moss, Telfar, Alexander Wang). Critics and insiders will tell you that the system is broken. But after the first day of shows on Saturday, it became clear that one thing New York Fashion Week needs immediately is a lot more Cheer.
Gabi Butler and Lexi Brumback of Netflix's Cheer make their fashion week debut front row at Brandon Maxwell, which took place at the Natural History Museum last night. Naturally, they went "full-out" and gave "mat talk" throughout, whooping and clapping for the models though they were their Navarro teammates. (Imagine Jerry screaming: "You're beautiful! You got this! 96 pounds!!!")
Brandon Maxwell is a Texas native, and his family and friends often treat his shows like a Friday Night Lights football game. Yesterday evening, the crowd was fueled with bottomless booze and Shake Shack. But for Gabi and Lexi, fashion week is like Daytona in heels. They brought so much energy and enthusiasm to the Hall of North American Animals that everyone else seemed taxidermied by comparison. It made me wonder what Coach Monica would say if she were here to give New York Fashion Week a pep talk. (She does have a degree in business, after all.) As she tells La'Darius when he lets his emotions get the better of him, maybe what New York Fashion Week needs is an attitude change, y'all.
Despite the pervasive womp-womp attitude this season, young designers are trying to stay positive. Saturday morning began with "Susan Alexandra: The Musical," an exuberant production by the popular handbag designer (who is no stranger to staging runway show alternatives: she hosted a Bat Mitzvah to showcase her collection last season). The plot was loosely based on her own experience, showing, as she said, "what it means to be a designer in 2020." The character of Susan dreams of opening a store in Soho, but is consumed by negativity and doubt.
"Everything is closing here," warns a devilish landlord, played by Jessica Joffe. Barneys, Opening Ceremony, Dean & Deluca, Souen: all gone! What makes Susan Alexandra think she can survive?
"What she says is literally what one editor said to me about my line when I was first starting," Susan Alexandra told the Cut before the show. Anticipating that editor would be in the crowd that afternoon, she had a message: "The triumph over all of this is color, and love, and expression!"
Designer Christopher John Rogers kept the dream alive Saturday afternoon with a show that combined Balenciaga's taste in volume with Billie Eilish's taste in neon. Rogers launched his line in 2016 as a wide-eyed twenty-something, sewing garments out of his Brooklyn apartment. He's since gone on to dress the likes of Michelle Obama, Cardi B, and Lizzo, and is widely regarded as the "next big thing" in New York fashion, winning the CFDA/Vogue Fashion Fund prize in November.
Rogers showed a whopping 40 looks on Saturday, which is a lot for any designer, especially one who's just starting out. Critics will tell you that the collection was in need of editing, which I agree with. But it was a bold move, and a statement of intention. "Go big or go home," as a cheerleader might say. When he came out to take a bow, he spread his arms and did a dramatic twirl. Coach Monica would have been proud.