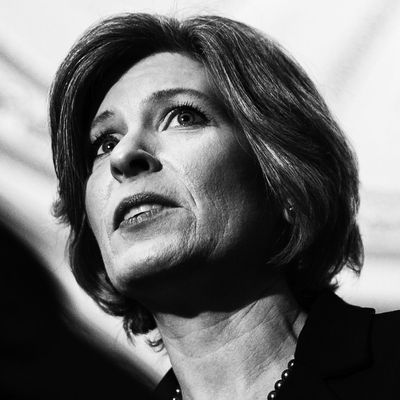 Photo: AL DRAGO/Bloomberg via Getty Images
Senator Joni Ernst of Iowa is one of a handful of women in Congress to have disclosed their status as a survivor of domestic abuse. In interviews last year, she told reporters that her ex-husband beat and choked her, and that she was raped in college. She hopes that "people will view my work in those areas not as a senator that is working to support them," she told the CNN affiliate KCCI, "but now as somebody who has been in that situation that will be supporting them."
But months later, Ernst, a Republican, held up a vote on the reauthorization of the Violence Against Women Act, or VAWA, major legislation that created the National Domestic Violence Hotline, funds women's shelters and research on gender-based violence, and which has languished in the Senate since it passed the House last year. The sticking point, she said, was a gun-control provision that the House attached to the bill. If passed, it would have closed the so-called "boyfriend loophole," which would prevent individuals subject to a restraining order or those who had been convicted of abusing a domestic partner from buying guns. Ernst later introduced her own counter-proposal which stripped VAWA of any gun control provisions.
Ernst's maneuvering outraged survivors and advocates alike, who say the loophole puts women at risk. The rate of murders committed by domestic partners has risen significantly, according to a Northeastern University study released in 2019, and most victims are women. A researcher told HuffPost that the increase was driven primarily by gun violence. Closing the loophole, experts say, would save lives, by ensuring the law covers all abusers, not just those who have lived with or been married to their victims.
Now activists intend to pressure Ernst directly about her stance. A series of new digital ads launched on Friday morning addresses the senator directly as a survivor of abuse. Produced by the progressive Be A Hero PAC, the ads feature Iowa women who experienced domestic abuse, lost loved ones to it, or who provide services to survivors. They accuse Ernst of prioritizing the demands of the National Rifle Association over the needs of her own constituents.
Two of the women who appear in the ads told the Cut that they hope Ernst, who is up for re-election this year, pays attention. "When the story broke that she was also a survivor, I had hoped that she would use her platform to advocate for other victims," said Amanda Johnson, whose former partner was convicted of domestic abuse. "Her not doing so felt like another assault. It's like another attack on us survivors, and it kind of re-traumatized a lot of women." A judge told Johnson's partner to surrender his guns. But Johnson says she was told there was no way to make sure that he did, and she lives in fear of his eventual release from prison. (Johnson has also volunteered for Elizabeth Warren's presidential campaign.)
Lily Steil, whose sister was murdered by an abusive partner, told the Cut that Ernst's position on the boyfriend loophole was "really appalling to me." "She knows the importance of the Violence Against Women Act and how this could protect people like herself," Steil added. "And I think she should relate to that, and protect all the survivors and victims in this instance."
The ad campaign creates a dilemma for Ernst, who adopted the language of social justice after Democrats criticized her for her VAWA stance last year. "I do not need to be mansplained to by Chuck Schumer. I am a survivor," she said. Not only do the ads call the senator's bluff, they could damage her quest for reelection: She is already one of the most vulnerable Republican incumbents in the Senate. "We really hope she changes her mind and comes around to support an expansion of the Violence Against Women Act, but if she doesn't, the least we can do is make her constituents aware of that betrayal," said Liz Jaff, the president of Be A Hero.