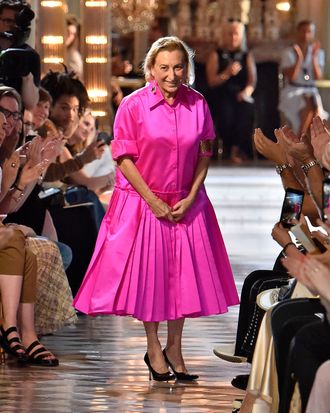 Miuccia Prada.
Photo: Victor VIRGILE/Gamma-Rapho via Getty Images
You'd think fashion brands would know by now not to make a product that even remotely resembles blackface, but you'd be wrong. In the last year, Prada and Gucci have had their own blackface-related scandals, and New York City is sick of it.
A New York Times report published yesterday outlined the ways the New York City Commission on Human Rights, helmed by Carmelyn P. Malalis, has turned fashion's ongoing reckoning with racism into a legal matter. The report ran with the headline "Miuccia Prada Will Be Getting Sensitivity Training" — Prada was the only brand that would disclose details to the Times — and writer Vanessa Friedman called it "one of the craziest stories I have reported."
The story begins in December 2018, when civil-rights lawyer Chinyere Ezie tweeted a photo of Prada's storefront and shared it on Facebook. The picture showed the store decorated with black figures that resembled monkeys with large red lips. The post went viral, there were some negative headlines, Prada apologized, and in the public eye, that was that. But behind the scenes, the legal gears were just beginning to turn. The commission sent a cease-and-desist letter to Prada, and in early 2019, Ezie filed an official complaint with the commission. In February 2019, Prada announced the creation of a diversity council, which the brand told the Times was in the works long before the commission came calling.
A year later, the commission and Prada signed their agreement. Miuccia, other Prada execs, and all employees in New York will go through sensitivity training. The brand will have to disclose the demographic makeup of all its staff next February, and the council Prada convened in 2019 will have to continue for six years, with status updates given to the commission every six months. And within 120 days, Prada will have to appoint a director of diversity and inclusion, who will review every Prada design before it is advertised or sold in the U.S.
The Prada story sets a precedent for the city getting involved with the structure and biases of European megabrands. It also indicates to those brands that people outside of the insular fashion world are watching. Some people quoted in the Times report called the commission's involvement a free speech issue and a federal overreach. But Prada, publicly, is amicable with the commission and happy with the result.
At face value, it seems like Prada is willing to learn and change their behavior. A cynic may look at it and say that they're just doing it to avoid a PR headache. Either way, this will hopefully lead to more diversity within the company.