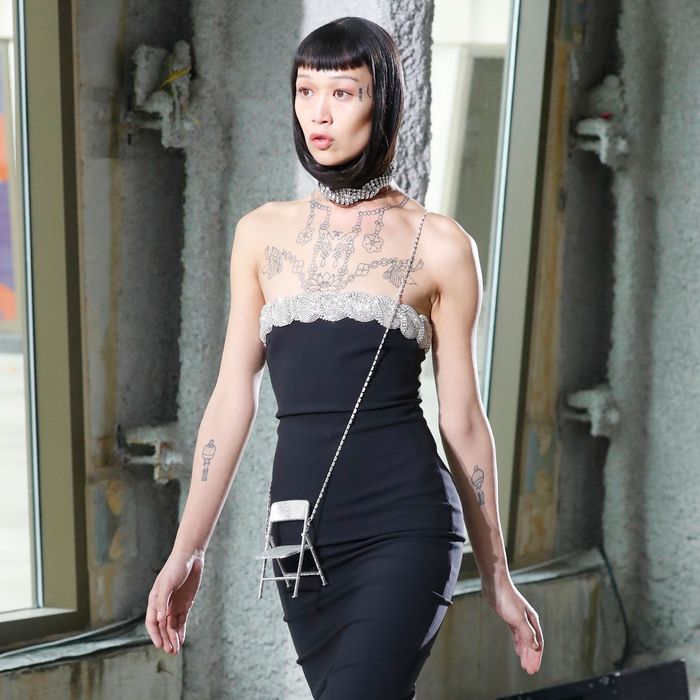 The New York Fashion Week Fall 2020 calendar may have been a little thin this season, but there was still a lot to take in — like cheerleaders, and tennis champions, and Rihanna! Plus lots of cool, strange street style. Oh, and some pretty good clothes, too.
Even if you're right there in the middle of it, it's impossible to see (or Instagram) everything. Below, a roundup of all the teeny-tiny secretly amazing moments you may have missed during Fashion Week.
1. Eckhaus Latta models wore shoes from TheRealReal.
Rather than spending precious time and money making shoes for a 15-minute-long runway show which they will never be able to sell, Mike Eckhaus and Zoe Latta of Eckhaus Latta partnered with The RealReal this season to outfit models in secondhand Prada, Manolo Blahnik, Ferragamo, and more. Not only did they avoid unnecessary waste, but the styling was also uniquely in touch with how their customers dress today, mixing old and new, Italian luxury and bleached denim. It's also representative of how the designers dress themselves. "We pretty much exclusively wear secondhand clothes, or our own," said Eckhaus.
2. Issa Rae had an awkward front-row experience.
Real Housewife Lisa Rinna and her daughters Delilah and Amelia Hamlin did their best Zoolander impressions at the Vera Wang show on Tuesday, but Issa Rae was having none of it.
3. Thom Browne brought back flip phones.
Thom Browne is an old-fashioned kind of guy. He loves typewriters and still believes in the uniform of a suit and tie. So maybe it's not a surprise that he would want to bring back the flip phone. The Thom Browne "Galaxy Z Flip," which dropped this week, comes in signature Thom Browne gray, plus red, white, and blue stripes. When asked what he liked about having a flip phone the first time around, Browne told the Cut: "When I didn't need it, I closed it." Those were the days.
4. And one young designer brought back Merrells.
I had these blue quilted Merrells in elementary school, and I can't believe they're back. When I saw artist-slash-designer Carly Mark wearing them down the Puppets and Puppets runway, I went into Issa Rae's fugue state.
5. Rachel Comey made a necklace out of a spoon.
What a cool, weird way to decorate your turtleneck. If you're on a budget, this is also a great look to try to DIY next fall. Maybe I'll turn a Snow Peak spork into a choker.
6. Tiny furniture became an accessory.
Harry Nuriev, the mind behind all that cheeky Balenciaga furniture at Art Basel Miami, teamed up with Area designers Beckett Fogg and Piotrek Panszczyk on miniature bedazzled folding chairs, which models wore as necklaces. You can buy the life-size version from myreality, a new luxury lifestyle brand from Nuriev and Tyler Billinger of Crosby Studios.
7. Christmas lights found a new purpose.
CDLM designer Chris Peters (who used to be one half of the brand Creatures of the Wind) has been repurposing dead-stock fabrics and found pieces for the last four seasons. I like the idea of using Christmas lights as tights, but I can imaging this getting annoying at holiday parties, when you have to stand near an outlet all night.
8. Poo-Pourri "made a splash" at the shows.
If you've read The New Yorker profile of Poo-Pourri founder Suzy Batiz, this next sentence will not come as a shock to you: The miraculous, odor-masking toilet-spray brand wants to be fashionable. A press release for its new glitter collection, which launched during Fashion Week, claimed that the shiny sh*t spray was a "seemingly coveted/necessary accessory for the fashion set." (It was gifted backstage at Collina Strada, Jonathan Simkhai, and Chromat.) Taxi cabs bearing the collection's marketing campaign, "Poop, but make it fashion," could be seen all around New York. Even Kendall Jenner noticed — she posted a photo of the ad in her Instagram stories.
9. And last but not least, there was a tuxedo thong.
Thank you, Vaquera, for always making us smile.