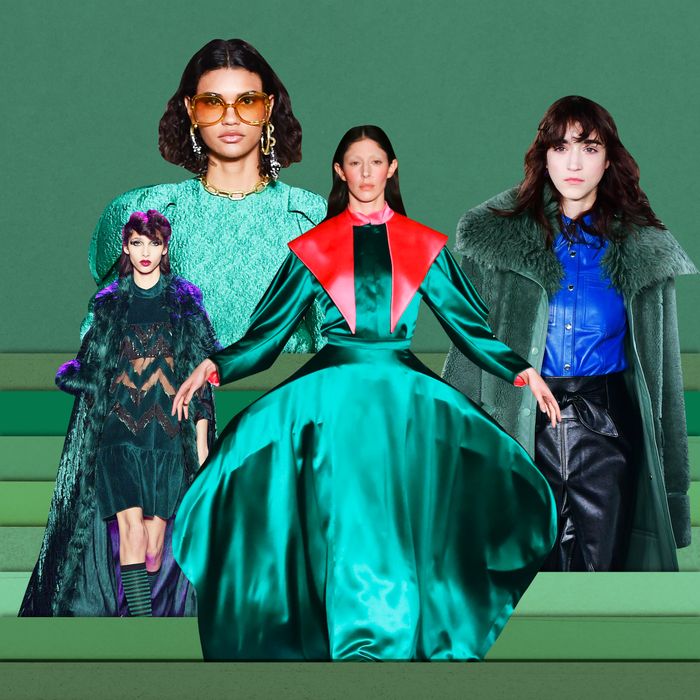 Photo: Getty, Shutterstock, Puppets and Puppets
Another New York Fashion Week has passed, leaving in its tracks a whole new set of trends to admire or eschew. Among them: slightly oversized suits, pollinated makeup, and emerald green. Going to the shows, I started to notice the shade — richer and bluer than the slime color Billie Eilish tricked us all into wearing — and felt soothed.
Unlike with slime green, you don't need to be convinced to like dark green. There's something reassuring about a jewel tone. It's sophisticated but not boring — perfect for the measured risk-taker, one who is likely waiting with bated breath for Phoebe Philo to announce her next move.
The opening look at Ulla Johnson was a pair of emerald leather gloves paired with a green sweater and emerald leather pants — fitting, considering the whole show felt like a glimpse into the closet of an eccentric billionaire in the 1970s. Anna Sui made green look goth, while Coach made it look luxe. And then there were Eckhaus Latta's acid-wash emerald jeans with fringe detailing. Not quite as dramatic as, say, Puppets and Puppets' ball gown with a hoop skirt, but an easy way to wear the color (easier still if you don't pair it, as they did, with an entirely sheer top.)