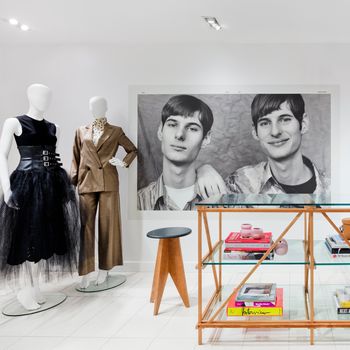 Photo: Courtesy of Nordstrom.
It's actually kind of brilliant for retailers to turn their returned or lightly damaged merchandise back around into a secondhand store. So far, the brands that have done it are lightly crunchy and super sustainable — Patagonia, Eileen Fisher, and REI. But now Nordstrom has its own resale store, online and in physical shops, called See You Tomorrow. The clothes in See You Tomorrow are all from Nordstrom — just lightly used and highly discounted.
Take Ganni, the Danish brand that's become a fashion-world favorite. A rainbow striped sweater costs $530 normally, but is listed on See You Tomorrow for $297, in pristine condition. And because it's resale, it cuts down on the amount of clothing that is discarded without being fully loved first.
Olivia Kim, Nordstrom's VP of special projects, helmed this initiative and curated the store. She went down to the warehouse, where Nordstrom keeps its returned merchandise, and went through the piles to select each item. "This has probably been our full-time job for the last five months," Kim said. "It's boxes on pallets. You pick a pallet, and you start going through it one by one. With resale, there's a hunt and a sense of discovery that I love." Then a company called Yerdle, which handles the logistics for REI, Eileen Fisher, and Patagonia's resale sites, cleans the clothes and puts them online. So basically, Nordstrom now has a curated thrift store — wins all around.