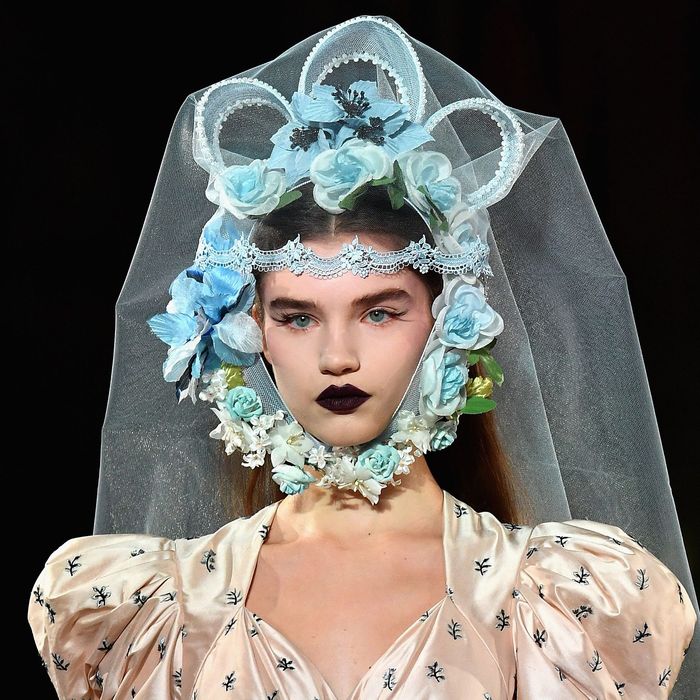 Photo: Angela Weiss/AFP via Getty Images
It's been a few years since there was a Rodarte show in New York. The brand's shows are known for their extravagant beauty, like baby's breath crowns, so many flowers stuck in the hair, and so much glitter. If you love pretty, romantic excess, you'll be happy to see that Rodarte still doesn't get "no-makeup makeup."
For Fall 2020, the inspiration was Mina Harker, Winona Ryder's character from Dracula. Although Harker was technically not a vampire princess, Rodarte's interpretation was very princess-y. Lots of models got several feet of lush-looking extensions added to their hair, thanks to hairstylist Odile Gilbert's tonged, soft S-waves (using gHD Classic Curve Wand — the oblong shape makes it easier to create a looser wave). All the models wore middle parts with a small section of hair secured into flat, loose topknots, which were covered with half-face veils and fresh flowers like roses and orchids.
On the lips, James Kaliardos wanted a graphic lip with straight lines. He used NARS Velvet Matte Lip Pencil in Train Bleu (the same shade used for Rodarte's Fall 2016 show) and Audacious Lipstick in Liv. But the real star was lots of lip liner in the NARS Star Rockin' shade. Using a repeatedly sharpened pencil, he traced the cupid's bows so that the heart shape was extra-defined.
To create a symmetrical shape, he drew a horizontal line directly below the lower lip and then followed the lip shape upward to the edge. "It creates balance," Kaliardos said. "Then you can tell where you're going to meet at the corners. When you have a dark lip, it's important to go to the full extent of your lip, or else you can look like Edward Scissorhands." To make the lipstick pop, Kaliardos likes to use a brush with concealer that's one shade lighter than the skin to press pigment into the edges where the skin meets the lips. You could see how a young vampiress would be very into this look.
If you buy something through our links, New York may earn an affiliate commission.