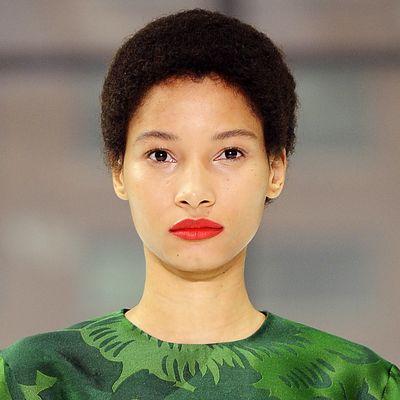 Photo: Albert Urso/Getty Images
"I'm glad lipstick is back," I heard someone saying backstage at Fashion Week. If you don't believe nude counts as a lip color, then consider this week to be validation that you're doing the right thing. Lipstick (and not just balm) is being used plenty backstage, in bright, vibrant shades, by designers like Proenza Schouler and Anna Sui. Here are three of the best lip colors from the shows, from an orange-red to a shade that's inspired by vampires.
Carolina Herrera
Carolina Herrera creative director Wes Gordon had a bit of an ulterior motive for giving his models red lips. The brand has been secretly working on a beauty line that includes 36 shades of lipstick, ranging from shimmery nudes to a soft cherry red (as seen above on Lineisy Montero). Vogue.com reports that there are a mix of sheer, matte, and satin shades, and Carolina Herrera's daughter, Carolina A. Herrera, is the new Beauty creative director. The lipsticks come out in mid-March.
Anna Sui
If you think the Cullens are milquetoast, you'd be happy to know that Anna Sui agrees. Sui loves horror movies — not a certain series set in Seattle, but older ones from Italy like 1964's Blood and Black Lace, which features a murder in a couture house. Her love of dark glamour inspired Pat McGrath to create a moody, wine-y lip. Backstage, makeup artists used their fingers (McGrath's favorite lip tool) to press McGrath's Full Blooded Matte Trance lipstick all over all the model's lips. An almost-black shade called Deep Void was blended in just the middle, so it looked sort of like a very dazzling vampire was in the middle of a meal.
Proenza Schouler
The most important thing to know about Proenza Schouler's great-looking lipstick is that it's only $8. But even though it costs less than lunch, I know from personal experience that it will last you from breakfast through dinner. Makeup artist Diane Kendal chose Maybelline's SuperStay Matte Ink in Dancer because it's very, very matte and easy to apply. To make the lip look more sculpted and the lines more defined, her team applied it with a lip brush.
If you buy something through our links, New York may earn an affiliate commission.