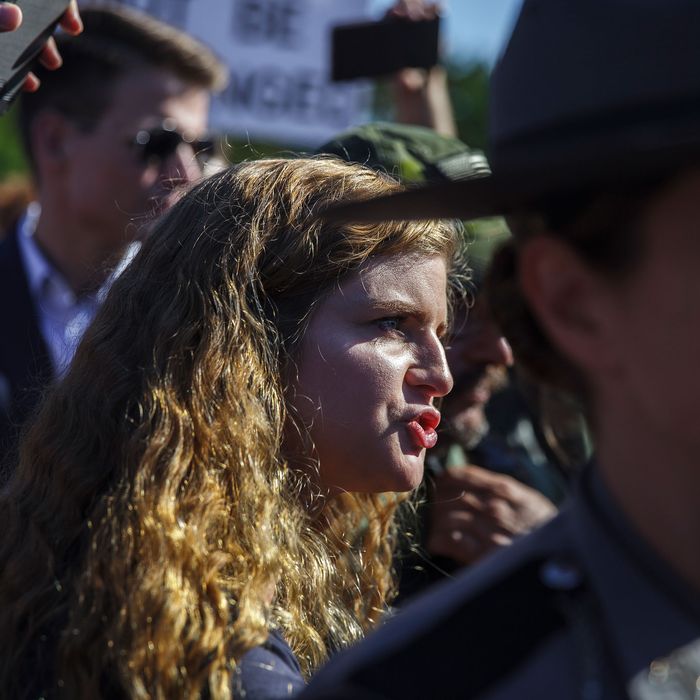 Photo: Shay Horse/NurPhoto via Getty Images
"Gun girl" and conservative stunt activist Kaitlin Bennett, the provocateur known for staging open-carry rallies in public spaces, did not receive a warm welcome in her home state yesterday; she visited Ohio University, where students decided to take a stand against her presence on campus. Bennett, who became famous for walking around her alma mater, Kent State, with a semi-automatic rifle in 2018, was surrounded by a crowd of students who splashed water, chanted insults involving an embarrassing campus rumor about Bennett, and, being that they're college students, filmed the whole thing on TikTok.
On her website Liberty Hangout, Bennett posts videos of herself grilling students on issues like gendered bathroom policies on campus, seemingly to expose how colleges alienate conservative students. She also contributes similar content to the far-right conspiracy-drive website Infowars. Bennett was ostensibly visiting Ohio to ask students "trivia questions" on camera about Presidents' Day. But she could barely film at the school on Monday given the mass of people that surrounded her and her small entourage — including a giant bodyguard — almost immediately. She was not openly carrying a weapon this time.
Hundreds of OU students followed Bennett around, making it extremely difficult for her to film her videos. One person placidly played a drum to drown her out as she tried to ask him questions. Groups threw toilet paper. Others apparently pushed into the crowd to give her an ironic hug. They cheered when she left after only two hours.
Bennett called it a "riot" on Twitter and tagged Donald Trump, saying that he should "strip funding from universities like this that harbor terrorists." Ohio University campus police, however, disputed her description. "There was strong language, and allegations that that some unknown person(s) in the crowd splashed water," police said in a statement, "but there were no reported injuries or violence, and no one was arrested during the incident."
"Kaitlin Bennett" was still trending on Twitter on Tuesday, as young people predictably responded to the news with a barrage of memes: