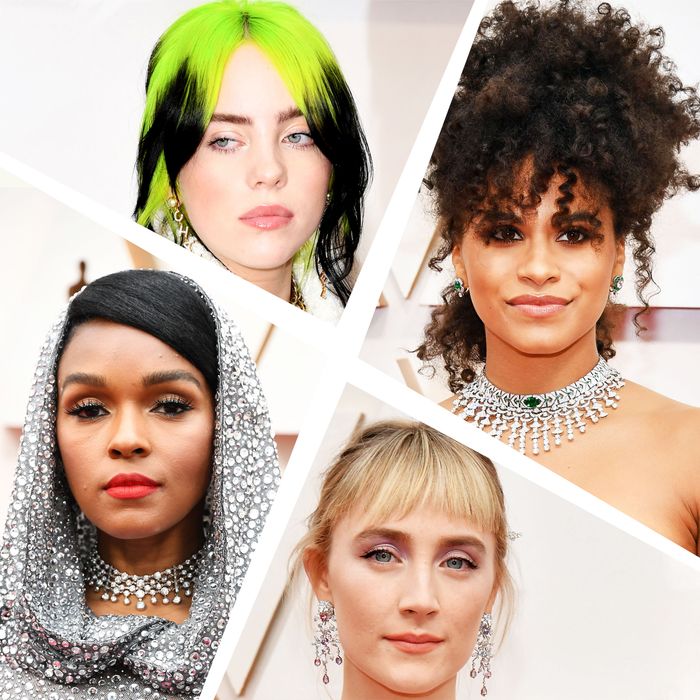 For the past five weekends, celebrities have been walking down red carpets wearing well-thought-out hairstyles and choreographed makeup looks. For us spectators tuning in from the sidelines, that was all just pregaming for the main event: tonight's 92nd annual Academy Awards, the final championship round. From Saoirse Ronan's new bangs to Cynthia Erivo's masterpiece of a manicure, here are the 13 beauty looks that scored the most goals/buckets/touchdowns/points (take your pick).
Best Face-Framing Tendrils
Julia Butters not only wore once-again-trendy tendrils but also added little drapes of hair in front of her ears — a red-carpet ear hairstyle she's recently helped pioneer.
Bounciest Curls
Good luck trying to stifle the urge to get curly bangs after seeing Zazie Beetz. Her curls weathered the weird L.A. storm thanks to Lacy Redway's all-over misting of Nexxus Comb Thru Finishing Spray.
Sharpest Cat Eye
Time to stock up on eyeliner and extend all your cat eyes into the inner corner like Kaitlyn Dever's henceforth.
Best New Bangs
Welcome to the world, Saoirse Ronan's choppy bangs! You're doing great, especially when paired with on-trend ear curtains.
Most Accomplished Nail Art
Nail artist Gina Oh basically painted "Starry Night" on Cynthia Erivo's left hand, putting all our mediocre attempts at nail art to shame.
Most Things Stuck in Hair
Billie Eilish's signature slime-green hair had a trifecta of things expertly stuck in it by stylist Mara Roszak: a Chanel hair clip, a Chanel scarf, and an aughts bump built with IGK Jet Lag dry shampoo and a Dyson Supersonic.
Most Alluring Color Switch-Up
Of all the new hair looks on the red carpet, Olivia Colman's new wheat-y ash-blonde pixie is one we'd like to hang out with the most.
Humblest Use of Eye Glitter
We're living in a post-Euphoria world where sparkle can run rampant on the face. Janelle Monae's subtle but sparkly lash lines prove a little can still go a long way, even behind layers of Lashify lashes.
Best Use of Roots
Roots are in and Florence Pugh's twisted updo is the perfect way to proudly showcase all that time and effort her hair's put into growing.
Sharpest Bob
We've seen many a celebrity bob in the past few months but Maya Rudolph's is hands down the sharpest and shiniest in La La Land.
Best-Dressed Part
Lucy Boynton is known for her red-carpet makeup looks but tonight her hair part looked exceptionally good, all gussied up in pearls.
Most Masterful Monochrome Makeup
Regina King's monochrome-pink makeup look (comprised of various forms of Charlotte Tilbury's Pillow Talk on the eyes, lips, and cheeks), makes wearing a singular tone on your face look as easy as slipping into one of those comfy cult sweatsuits.
Best and Possibly Only Step Bangs
Singer Aurora invited those weird bangs to the red carpet, you love to see it!