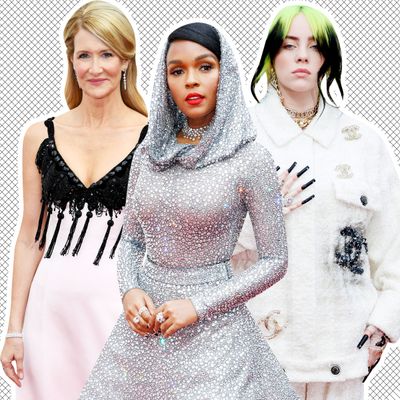 Laura Dern, Janelle Monae, Billie Eilish at the 2020 Oscars.
Photo: Getty Images
After what feels like a lifetime of awards shows over the past few months, the Oscars are finally here. Yes, the season of celebrities looking pretty and accepting shiny objects came to a conclusion on Sunday night at the 92nd Academy Awards, following the Golden Globes, the SAG Awards, the Critic's Choice Awards, and so many others we've never even heard of. Did the Oscars red carpet top that internet-breaking moment between Brad Pitt and Jennifer Anniston? Did Laura Dern finally have her fashion ah-ha moment? Is it possible that Billy Porter outdid himself? (Again?) Did Timothée Chalamet steal the show?
Below, our hyper-specific review of the 2020 Oscars red carpet.
Best Boob Armor: Billy Porter
The harness is so last year; it's all about the chest plate now, or "boob armor," as we're calling it here at the Cut. Both Gwyneth Paltrow and Zendaya wore Tom Ford's futuristic hot-pink version recently, but Billy Porter is giving us more ancient Roman vibes with this gilded feathery top. He's truly a red carpet phoenix, constantly rising from the ashes to the occasion.
Chillest Chanel: Billie Eilish
The Chanel tweed jacket is perhaps the most classic status item out there. It's the kind of piece every rich grandmother has in her closet, made to be passed down from generation to generation. But Billie Eilish is not about following tradition, which is why her version of the Chanel tweed suit is so exciting to behold. Its classic double-C logo looks slightly burnt, as though she left it in the toaster for too long. Burn it down!!!
Best Lamp-Shade Impression: Laura Dern
I love lamp? I love lamp. I LOVE LAMP! Maybe I'm just saying that though.
Most Area 51: Janelle Monae
Featuring over 168,000 Swarovski crystals, this custom Ralph Lauren dress can probably be seen from space. Janelle Monae always looks out of this world, but after seeing this I feel confident that she's visited Area 51 at least once, and is now its leader. I'm ready to go; what about you?
Most Glamorous Sack: Maya Rudolph
It's really hard to imagine a better outfit than the red Valentino turtleneck dress Maya Rudolph wore to the 2018 Oscars, but this shiny Valentino caftan is a close second. It looks so comfortable. I want it to be my apartment.
Nicest Curtains: Greta Gerwig
Why is everyone dressing like furniture? Whyyyyyyy???
Harshest Peplum Attack: The Little Women
Help! Someone please save Saoirse Ronan and Florence Pugh from the peplums that have attacked their gowns! The growth must be stopped at the root!
Most Valuable Suit: Sandy Powell
The Irishman costume designer Sandy Powell wore a white suit signed by "almost" all the nominees. She plans to auction it off in partnership with the Art Fund to save Prospect Cottage, the former home of filmmaker Derek Jarman, who lost his life to AIDS in 1994. This is a great idea, and I miiiiiight need to steal it one day for selfish purposes.
Tiniest Shade: Natalie Portman
Natalie Portman's custom Dior Haute Couture gown was embroidered with the names of women who were snubbed this year. That'll show 'em!
Coolest Shoulders: Olivia Colman
It's always great when Olivia Colman wears an outfit that makes you turn your head sideways and go, "Huh! Cool!" This Stella McCartney look not only fits her perfectly, but also has delightfully weird shoulders. And a cape!
Best Appendages: Cynthia Erivo
The fact that we can only see one of Cynthia Erivo's legs is made up for by the fact that we can see BOTH of her arms, which look way more buff than those of Mr. Oscar himself.
Most Likely to Succeed: Beanie Feldstein
I'm really rooting for Beanie. After seeing her at a Rachel Comey sample sale once, I can say with confidence that she is a young woman with a natural sense of style who likes to have fun with fashion. She looks lovely in this Miu Miu gown, but I hope that the next time she shows up at the Oscars, which she surely will, she takes a few more risks. Go, Beanie! Go!
Hottest Cape: Brie Larson
Brie Larson's Celine gown is composed of more than 120,000 sequins, 110,000 glass beads, 13,000 Swarowski crystals, and required over 1,200 hours of hand embroidery. She looks hot and it fits her perfectly, so you could say it paid off.
Biggest ARE YOU KIDDING ME: Timothée Chalamet
Timothée Chalamet had one job tonight. ONE JOB. Instead of dressing like the red-carpet king that he is and giving us an outfit that we want to run us over at top speed, he gave us Frank Ocean at the Met Gala. We know Timothée is a fan, but this is a huge letdown. He's grounded! I'm so mad!