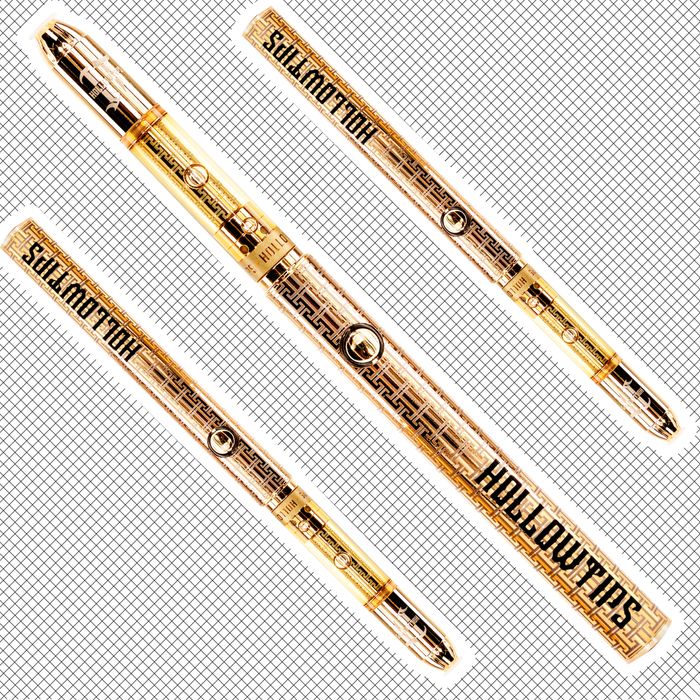 Congrats to all nominees on their new gold-plated vape pens.
Photo: Hollowtips
This year's Oscars gift bags, which were given to nominees and are apparently valued at approximately $225,000 each, are full of items and services so extravagant, I'm struggling to wrap my head around them. According to Forbes, there's a getaway inside an active Spanish lighthouse, $20,000 in matchmaking services, and a brain-sensor headband that translates your mental activity into weather sounds, whatever the hell that means. But among all these curiosities, there is one gift that stands out: a gold vape pen.
This year, all 24 nominated actors and directors took home gold, in the form of a 24-karat gold-plated vape. According to the founder of Distinctive Assets, the company behind the gift bags, the inclusion of the vape was inspired by Leonardo DiCaprio, an early and enthusiastic adopter of the vape lifestyle.
Apparently, the gift-bag creators were not dissuaded by the recent vape crisis. Over the past few years, as vaping has become a nationwide trend, we've learned about how dangerous it is to suck on the battery: The devices have left users with lungs that resembled victims of chemical warfare, and have sparked a public health crisis.
Meanwhile, Adam Driver and Florence Pugh are the new owners of pens plated in actual gold. I wonder if you're allowed to vape in the Spanish lighthouse? Or what kind of weather noises the brain headband would make while vaping? Or, most pressingly: Who will be the first person to Instagram themselves using the pen?