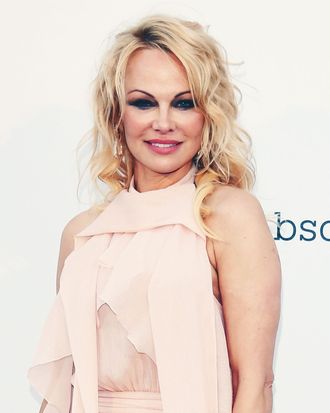 Photo: Daniele Venturelli/Getty Images for amfAR
Pamela Anderson is calling it quits on marriage No. 5 a mere 12 days after reportedly tying the knot with A Star Is Born producer Jon Peters, which means she can again return to her one true love: inspirational quotes.
In an Instagram post referencing her recent relationship-status change, the actress and activist wrote on Sunday, "Love is a risk," and quoted Albert Einstein: "Madness is always doing the same thing and waiting for different results."
But her work was not yet complete. Anderson logged on to Twitter shortly after to post another picture of herself, this one wedded to a quote from the journals of Sylvia Plath.
Anderson told The Hollywood Reporter on Saturday, "Life is a journey, and love is a process. With that universal truth in mind, we have mutually decided to put off the formalization of our marriage certificate and put our faith in the process." Us Weekly reports that the couple never obtained a marriage license.
Look, Jon Peters is a pretty cool guy. He first tried to date Anderson more than three decades ago, has a career, can have his pick of beautiful women (his words), and, according to a poem Anderson wrote on the occasion of their marriage, he's "the original 'bad boy' of Hollywood." But inspirational quotes are just more permanent; they offer guidance and peace like no bad boy can, and they're carbon neutral, a quality I imagine an avowed environmental-rights advocate like Anderson would be highly interested in.