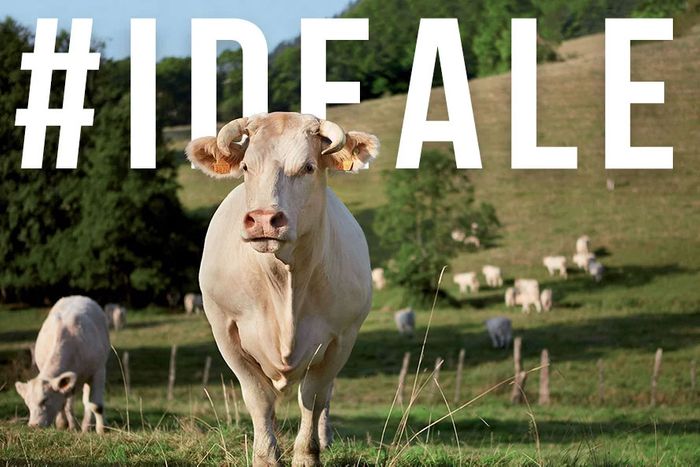 Idéale!
Photo: Salon International de L'Agriculture
"Her name could not be more appropriate," her description on the Paris 2020 International Agricultural Show's website begins. "Idéale."
Idéale. Idéale! Idéale, quel honneur. Idéale, mon dieu!
Idéale, the cow pictured above, is the mascot of the exhibition, which is taking place from February 22 to March 1 this year. The annual convention brings together farmers from all over France to celebrate the country's rich bounty of agricultural products, from its wine and cheeses to its produce, its livestock, and, according to The New Yorker, its hot-tub vendors.
Every year, the event chooses a bovine mascot that best embodies the wonders and opulence of the event, and whose picture gets plastered around the streets and subways of Paris. First, the breed is selected by the organizing committee. Then the president of the breeding organization for the winning breed chooses which specific cow will be the mascot. And this year, it's Idéale. Idéale!
Idéale is a 6-year-old Charolais cow from the Monts du Beaujolais in western France. She has, according to the show, "everything going for her." Specifically, "a short head, a broad muzzle with nice sharp teeth, fine crescent-shaped horns which curve perfectly around towards her eyes (referred to as cabettes), a wide and muscular back, thick haunches, etc."
In addition to her gorgeous sharp teeth and thick haunches, she has a sweet personality. She's described as docile, maternal, and "she cannot hide her pleasure when being stroked." Idéale!
Last year's mascot, Imminence, was a 5-year-old Bleue du Nord, who was also wonderful, I'm sure. But who can compare to Idéale, really?
Idéale:
Docile,
Elegant
Ambassador.
Luminous
Empress.
Idéale, je t'aime!