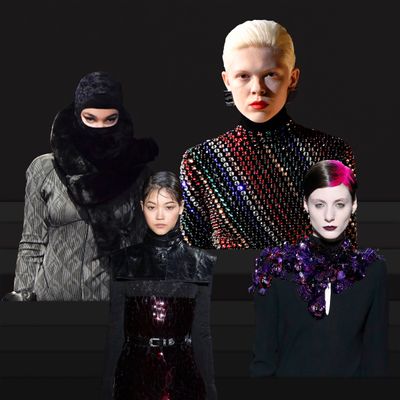 When I think of French-girl style, a couple things come to mind. There's the quote-unquote "French girl," with her ballet flats, Agnès B. snap cardigan, and bicycle basket. And then there's the "cool" French girl — the kind of person who wears a really thick scarf and tights, and never smiles through her dark lipstick. She's moody and mysterious, slinking in and out of the discotheque at night to smoke cigarettes. She'll probably insult you to your face and you'll thank her for it.
The Paris runways this season seem to be embracing the latter kind of French girl. If I were to describe the color of the season thus far, it would be "corner of a dark club" — a sultry blend of slick black, velvety purple, deep red, and some shine, like confetti on the floor at the end of the night. Models at Saint Laurent, Dries Van Noten, and Paco Rabanne all emerged from dark shadows into a spotlight this season. Van Noten even titled his show "Nocturnal Glamour." As Cathy Horyn wrote in her review, the palette "seemed to spring from an eye shadow kit." Below, some looks that embody this non-color color.
Paco Rabanne designer Julien Dossena took the brand's signature paillettes and made them fit for a Joan of Arc–type who wants to go out.
Marine Serre, meanwhile, took her models to space, where it happens to be very dark.
And at Saint Laurent, Anthony Vaccarello mixed bourgeois dressing with BDSM. Which French girl are you?